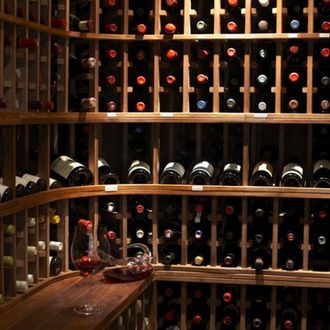 The French Laundry's cellar is now back to full.
Photo: The French Laundry
One of the two thieves who broke into Thomas Keller's French Laundry on Christmas Day in 2014 and looted $550,000 of its finest wines has pleaded guilty to that total jerk move. As part of a plea bargain, the Justice Department says Davis Kiryakoz admitted he'd plotted to steal more than $870,000 worth of expensive bottles from the restaurant (Domaine de la Romanée-Conti vintages, an Über-pricey Screaming Eagle Cabernet) and mailed more than $370,000 worth to buyers.

Good Samaritans returned almost all of the French Laundry's 110 bottles unopened, but Kiryakoz and his partner in crime Alfred Georgis, who was also indicted earlier this year, also swiped 142 of the "most expensive bottles" from a high-end San Francisco wine store, and made off with another 17 from Alexander's Steakhouse in Cupertino, suggesting they probably planned to continue thieving. The judge released Kiryakoz on bail, but he and Georgis will be back for sentencing in March.