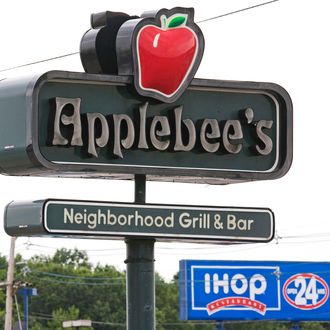 Together at last.
Photo: Emile Wamsteker/Bloomberg via Getty Images
Restaurants, and specifically restaurant chains, have had a rough go of it lately, with many also-rans closing shop or otherwise entering financial-crisis mode. Even the major players have to figure out new ways to attract Americans who are now content to eat a diet that consists exclusively of pizza they order on their Apple TVs. Things are dire, in other words, and the time has come for a Hail Mary. Something inspired. Something that's simultaneously bonkers and ingenious. Something that promises to get butts back in booths by offering Rooty Tooty Fresh n' Fruity pancakes and boneless chicken wings at the same time.
Late yesterday, that something arrived, and it is the announcement that the world's first-ever combination Applebee's and IHOP will open, in Detroit in late 2017.
The Detroit Free Press details the upcoming project: The 12,000-square-foot breakfast-bar emporium will seat 300 guests and should employ about 100 workers. It will be in downtown Detroit. And it will "feature a coffee bar and Detroit-centric interior design."
But what about the food? Fair question. Will syrup carafes adorn all tables at all hours? Will beer be available for breakfast? Unfortunately, since this is the first time such an experiment has been undertaken, there are still many details to work out, including just how the hell the menus will coexist. The paper's "sources" reveal the menu is still a work in progress, and "it's not yet known whether guests could order IHOP pancakes and omelets throughout the day." This, however, sounds like more of a kitchen-logistics issue than an actual conceptual debate, since opening a combination IHOP-Applebee's that doesn't offer breakfast all day would be like opening a Whole Foods that doesn't try to appropriate another culture's sandwiches for their predominantly affluent white customer base. It just wouldn't work.
Natives of southeast Michigan will of course tell you that the Original Pancake House on Woodward is the superior hotcake chain in the metropolitan Detroit area, an incontrovertible truth that seems unlikely to change with this development. So it makes sense that the upcoming restaurant's operators tell the Freep they plan to lure "guests in nearby hotels as well as downtown visitors" with this new concept. It also seems likely that, should the mash-up work as successfully as everyone thinks it will, mutant Hopplebee's will start to sprout up all across this great nation of ours.