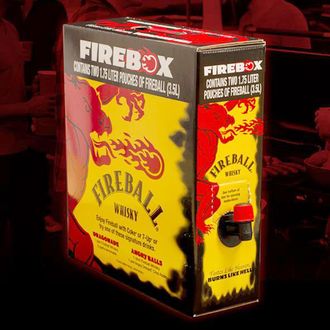 Feel the burn.
Photo: Fireball Whiskey/Facebook
As if Fireball, the Big Red–flavored whiskey that your younger cousin Dylan loves, couldn't get any classier, the frat-bro favorite is now available in a convenient box.
The so-called Firebox retails for about $60 and contains two 1.75-liter pouches of poison. Translation: There are about 80 shots in this thing and it's equipped with two plastic spigots, naturally, so imbibers can do this:

Fireball thought of everything with these helpful boxes — they even come with a couple cocktail recipes, like for the very seasonal-sounding "Angry Balls," which is simply a shot of Fireball and a pint of Angry Orchard hard cider. The hangovers are going to be brutal.