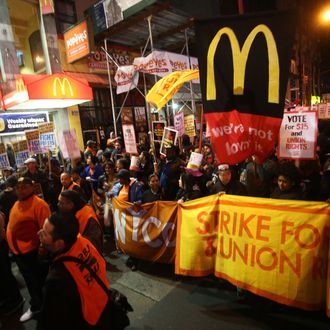 Still fighting the good fight.
Photo: Pacific Press/LightRocket via Getty Images
2016 may go down as a year American fast-food workers scored major wage victories, but the next four under Trump don't look likely to be quite as triumphant. In fact, the union that's funded the hugely successful Fight for $15 movement since it began four years ago has announced plans to slash spending in order to conserve resources under a newly hostile government. According to an internal memo Bloomberg got a hold of, the group, known as the Service Employees International Union, is planning a 30 percent budget cut for 2017. It's spent tens of millions of dollars on the living-wage fight since 2012.

Threats posed by the Trump administration "require us to make tough decisions," the union's president Mary Kay Henry wrote to staff. She says they need to "dramatically re-think" how to carry out SEIU's strategy, and unfortunately that means slicing the budget by almost a third, including a 10 percent reduction at the start of 2017. Fight for $15 has been one of the labor movement's most successful campaigns in recent memory. States like California and New York passed $15 minimum wages this year largely because wage protests made the issue unignorable. But, as SEIU is fully aware, cuts to Fight for $15's funding could have a dramatic effect for the 64 million low-wage earners it represents nationwide.
Bloomberg tried teasing out what the cuts mean for SEIU's current campaigns, but a rep balked on giving specifics. She danced around by saying the group "must realign our resources" and "streamline our investments" to "improve our budgets," though the memo itself suggests plans to focus "resources and energy" on the 2018 and 2020 elections, though it's unclear how or if Fight for $15 might work into that. SEIU is the country's second-largest labor group, but fast-food workers can't officially unionize, meaning they also can't pay SEIU-membership dues, which, as BuzzFeed notes, arguably puts their campaign in a "precarious spot" for 2017.
Also, an unfriendly White House and Congress, a possible Supreme Court conservative majority, and enemies at multiple federal agencies — lose, lose, lose, from labor's perspective — could spell further doom for Fight for $15, although it's worth noting that Donald Trump's position on a living wage has never really been clearly enunciated.