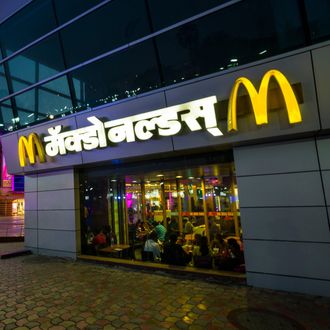 Surprisingly progressive.
Photo: Frank Bienewald/LightRocket via Getty Images
It's rare to find McDonald's on the side of a positive human-resources story, but in India — where female participation in the labor force is incredibly low — American fast-food chains realize the value of diversity. As The Wall Street Journal reports, "Women are great for business, executives at several chains say, because they are generally more hygienic, customer-friendly and loyal—a rare attribute in an industry where employee turnover is high."
Further, to make their female employees feel safe and secure, companies like Burger King Corp. are offering unique incentives — self-defense and gender-sensitization classes, mentorship programs to help women become managers, all-female crews, and an appointed female confidant at every location. This kind of respect for employees isn't even the norm in the States, where McDonald's recently settled a wage-theft lawsuit for a whopping $3.8 million.