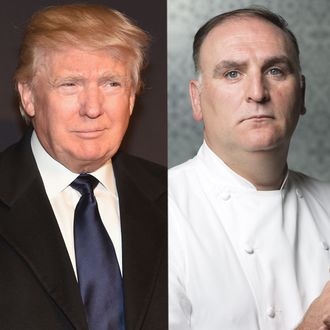 Oompa Loompa versus food.
Photo: Getty Images
Just two weeks before his inauguration, President-elect Donald Trump will be deposed for his ongoing legal squabble with chef José Andrés. The chef, you'll recall, was originally supposed to open a restaurant in the Trump International Hotel in Washington, D.C., before he bailed on the projects following racist remarks Trump used to launch his campaign. (It all seems so long ago, doesn't it?) Trump's team sued for breach of contract, and though the lawsuit was filed in Washington, D.C., Andrés's lawyers agreed to depose Trump in New York, which he requested for apparent security reasons.
Trump's lawyers had also asked for questions covered in a past deposition to be prohibited, and for questioning itself to be limited to two hours, as his schedule is very busy (Kanye!). That request was denied on Wednesday by D.C. Superior Court judge Jennifer A. Di Toro, who argued that doing so would hamper the defense's ability to prepare for trial and that Trump's statements are too important to both parties' claims. This means that Trump's deposition could last as long as seven hours, which will certainly test his reportedly very short attention span.

Earlier this week, Andrés suggested the two simply set aside their differences and donate to a cause that supports veterans. So far, Trump has been too busy yelling at Vanity Fair to respond.
This post has been updated throughout with new information.