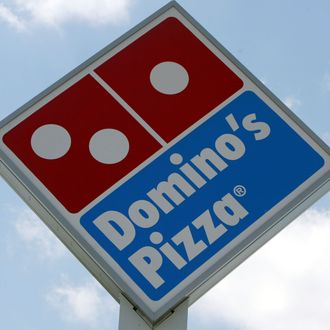 Eh?
Photo: Joe Raedle/Getty Images
This year, Taco Bell tried every possible way to get attention — debuting a Cheetos quesadilla, turning a restaurant into an Airbnb, testing an "upscale" store design — but even though its earnings per share increased, it was no match for Domino's. It seems that the pizza chain is unbeatable, perhaps because Americans favor a fast-food product that's reliable and consistent.

The Motley Fool reports that it's one of the most successful fast-food chains of the year, along with Papa John's, writing: "In Q3, Domino's posted its 22nd consecutive quarter of year-over-year domestic same-store sales growth, notching a 13 percent improvement for the period. It also had strong international numbers, gaining 6.6 percent in same-store sales, its 91st consecutive quarter of growth by that measure … Papa John's stock opened the year at $54.97 and closed at $89.17 on Dec. 16, a 62 percent increase. Domino's closed on Dec. 16 at $160.04, up from $109.96 to start 2016, an almost-as-impressive 45 percent gain." What Domino's has done is keep its food the same — pizza that's sure, fine, okay — and saved the attention-grabbing hijinks for the way it delivers its products. You can now order Domino's via a push-for-pizza button, a tweet, a Google Home or Amazon Alexa, and soon, a futuristic delivery car that has its own oven, and an actual robot. It sounds a bit silly, but it's the kind of posturing that makes it a strong investment in a crowded fast-food group.