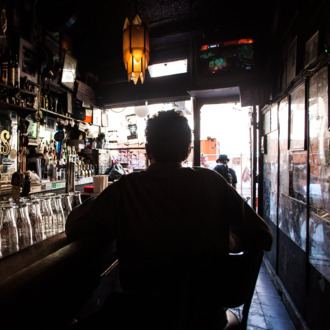 Need a stiff drink to handle this news.
Don't get too comfortable with that 99-cent martini, because the plethora of $1 happy-hour drink specials at New York bars that seem too good to be true probably are, according to the State Liquor Authority. Watering holes around town have started rolling out eye-popping deals as a way of luring in the more and more elusive after-work crowd — Playa Betty's on the Upper West Side does shot-size versions of its signature frozen Paloma for a buck during happy hour, Harlem bar RDV Rendezvous sells a full-size version of its take on the Moscow mule for $1, and the World's 50 Best Bars' No. 34 spot Dante is doing a martini in Greenwich Village with either Plymouth or Absolut for 99 cents, tax included.
Today's Wall Street Journal is the bearer of bad news, though. It reports that, hypothetically speaking, amazing deals like this are a legal no-go. Two-for-ones are okay, as are half-priced specials, but the state's liquor laws, which traditionally err on the side of draconian and puritanical, pretty much don't allow anything else. No free drinks, no "unlimited" specials, nothing discounted by more than 50 percent, and no other deals that "in the judgment of the Authority, are attempts to circumvent the law," because the state takes its job to keep people from enjoying themselves too much at the end of the workday very seriously.

The good news is the exact wording may leave a little wiggle room; an SLA rep tells the Journal "exceptions to the law might apply," like if a bar were discounting a drink that's smaller than the standard offering, that sort of deal could pass muster. But then he adds ominously, "We'd have to look and see." Say a prayer to the cocktail gods, or else Jell-O shots might once again be all a single gets you.