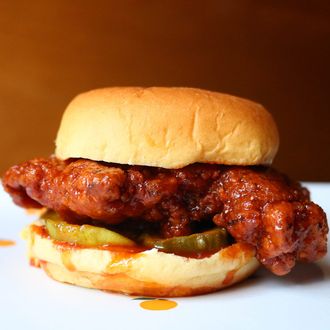 The new glazed-chicken sandwich.
Photo: Courtesy of Momofuku
It's been a year and a half since David Chang introduced Fuku, his sandwich concept that specializes in spicy fried chicken. New York is now home to four locations — East Village, midtown, Madison Square Garden, and Citi Field — and soon, a fifth will open at 110 Wall Street. Stay tuned for additional details and an exact launch date, but you can expect chicken fingers, chili-cheese fries, and maybe even a new sandwich or two. It's only a matter of time before Chang takes his chain national.