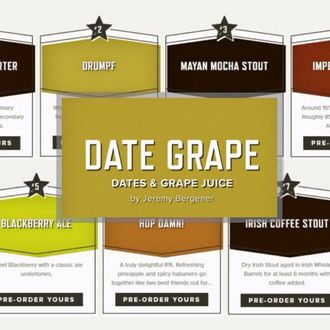 "Date rape isn't funny," the creator wrote, "but date grape … "
It's the Godwin's law of letting internet voters pick new products: The longer it continues, the greater the odds a Mountain Dew flavor gets named after Hitler or a $200 million British ship gets christened Boaty McBoatface. Feel bad already, then, for Milwaukee's MobCraft Beer — the "world's first completely crowdsourced brewery" that learned this week why brewing whichever user-submitted beer gets the most votes can backfire.
It seems some Colorado guy with a tremendously bad sense of humor proposed using dates and grape juice — innocuous enough — for a beer he then suggested calling "Date Grape." The submission somehow got enough votes to make the top-eight winner's cut, at which point it received thorough condemnation by the public. The Journal Sentinel says angry commenters online called themselves "disgusted," and vowed to write MobCraft complaint letters addressed to "Dear Sirs (for whom else could you be)."
Founder Henry Schwartz apologized Tuesday in a Facebook post, admitting that MobCraft had stupidly never put any kind of vetting process into place:
There was an offensive name of a user submitted beer in this months vote, our monthly vote let people submit ideas for the beers, we did not have a process for screening names before the vote rounds started. I feel horrible that this oversight happened, the beer name has been changed and we now have a process where our team vets names before they ever appear publicly. We would Never promote rape culture as it is very serious issue never to be joked about.
He tells the paper they'll be donating a portion of this Saturday's taproom sales to a Milwaukee rape-crisis center, but didn't specify how much. However, the snafu has caused people to dig into MobCraft's other beers, too, and they haven't been thrilled with some of those either. A cream ale aged in tequila barrels called Señor Bob featured a sombrero-wearing Hispanic guy, then the label for Sippin' On G&J had a man with dreadlocks made of hops, and Arabian Date Night stuck the dried fruit in a turban. Schwartz says any future runs of those beers "will have different labels" as well.