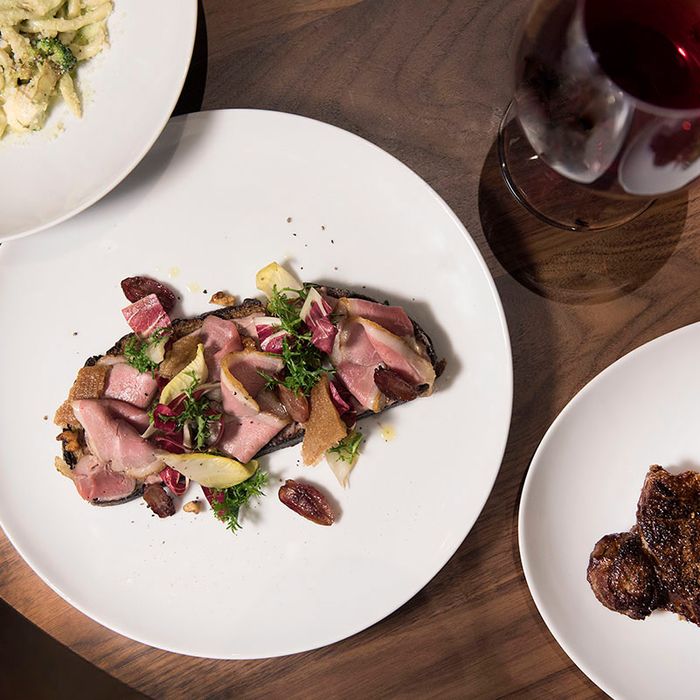 The iconic restaurant returns, comfort food intact.
Photo: Liz Clayman
The last several months have seen a steady stream of new stuff that manages to also be comfortingly familiar. A Tribe Called Quest released its first record in two decades. (So good.) The year's hottest Christmas present is a retro Nintendo system. (Tecmo Bowl!) And the whole Internet won't stop talking about Gilmore Girls. (Melissa McCarthy plays a chef, right?) Now, the restaurant world can lay claim to its own modern revival: Next week, Danny Meyer will open a brand-new Union Square Cafe, an updated version of the original restaurant that first opened about five blocks away in 1985.
It's been almost exactly a year since USC 1.0 closed its doors, and the popularity of the original means the team had the unenviable task of opening a new restaurant that also feels just like a New York institution. And, in fact, things have changed. The new location, at the corner of Park Avenue South and East 19th Street, is far more open-feeling than the original restaurant. There are a few more seats. There will be no tipping. And perhaps most important, executive chef Carmen Quagliata had the time to retool the entire menu.
"Even the things we brought with us, we took a look at everything about that dish to say, What can we make better?" the chef says. A new bakery program means anything involving bread has been rethought. The restaurant's famous tuna burger is retooled so the meat is cut and formed instead of being ground ("It's like you're eating a tuna steak but it's in the shape of a burger"), and extra staffers in the kitchen means labor-intensive dishes like homemade tortellini en brodo are now fair game. These are just a few examples, and even though the kitchen started from the ground up, the sensibility is the same as ever. Other dishes to expect include seared scallops with polenta and guanciale, as well as ricotta gnocchi with tomato-basil passatina. "You'll feel like you're eating our food," Quagliata explains.
So it's the same but different, and when the doors open next week — the exact date is still something of a moving target — it's a safe bet that the dining room will fill up with a mix of regulars and newcomers, as well, (re)discovering a refreshed and revamped version of what made the original space such a hit for 30 years.