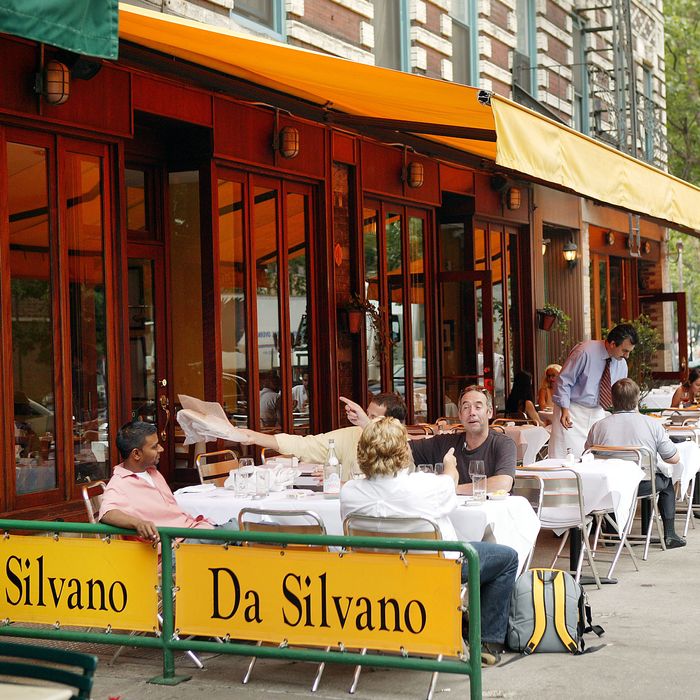 It closed without notice.
Photo: Scott Gries/Getty Images
After 41 years in the West Village, frequent Lindsay Lohan paparazzi destination and Italian trailblazer Da Silvano has served its last osso buco. Owner Silvano Marchetto tells the New York Post that the restaurant is "closed forever" following last night's service and it sounds as if he's simply tired of the grind. Operating costs sound like they played a factor as Silvano says the restaurant has seen its rent rise from $500 in 1975 dollars to its current rate of $41,000.
The restaurant hadn't necessarily aged well, but it once stood out for its Northern Italian food when New York was swimming in a sea of Italian-American red sauce. It continued to attract celebrities like Sean Penn and Madonna, and thanks to a constant throng of regulars and tourists, it seemed like the kind of restaurant that would stay open forever. In a year of significant and unexpected closings, this might be the most surprising one yet.
In recent years, though, the restaurant was possibly better known for what is almost certainly the most heated and long-standing feud between two neighboring restaurants in New York. The story begins in 1992, when Marchetto helped his former waiter Giovanni Tognozzi open Bar Pitti. It didn't take long for their relationship to sour. By 2002, Tognozzi sued Marchetto, who was accused of sexual harassment, and Marchetto would later sell his stake in the business. Accusations of stolen recipes were lobbed. Six years later, Tognozzi reportedly got into a shouting match with a Da Silvano maître d' who dared say hello to a friend eating at Bar Pitti. And when someone threw a smoke bomb into Bar Piti in 2014, Da Silvano's manager publicly swore that his restaurant was not behind the attack. Sadly, 14 years after the drama got real, it's all over.
This post has been updated with information about Da Silvano's feud with Bar Pitti.