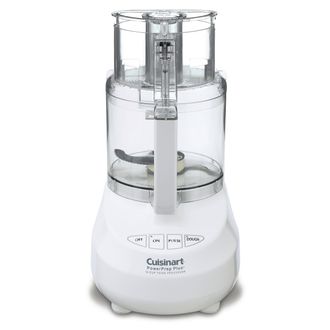 Cuisinart's parent company Conair has recalled some 8 million food processors over cracked blades, in what the Consumer Product Safety Commision says is the largest kitchen-appliance recall on record. The voluntary recall covers 22 different models, all with riveted blades, which were sold from July 1996 through December 2015.
The recall was initiated after 69 incidents of consumers reporting pieces of broken blades in their food, with 30 reporting broken teeth or mouth lacerations as a result. That sounds like a nightmare, so it's unsurprising that people want to replace the pieces. Conair, however, has reportedly been unable to respond adequately to the situation.
Since announcing the recall, Cuisinart has been overwhelmed by customers inquiring about new blades, and probably panicking over holiday cooking plans. Literally: The company's recall page on its website was down last night, and customers have reported issues with it on social media into this afternoon. The site has been hampered, the company has said, by the millions of people freaking out about how they're going to make all those cookies. The company has faced similar problems with its phone line, which customers reported yesterday and today as having trouble letting callers through.

If you haven't checked your Cuisinart yet, you certainly should. Affected units have the following model numbers: CFP-9, CFP-11, DFP-7, DFP-11, DFP-14, DLC-5, DLC-7, DLC-8, DLC-10, DLC-XP, DLC-2007, DLC-2009, DLC-2011, DLC-2014, DLC-3011, DLC-3014, EV-7, EV-10, EV-11, EV-14, KFP-7 and MP-14.