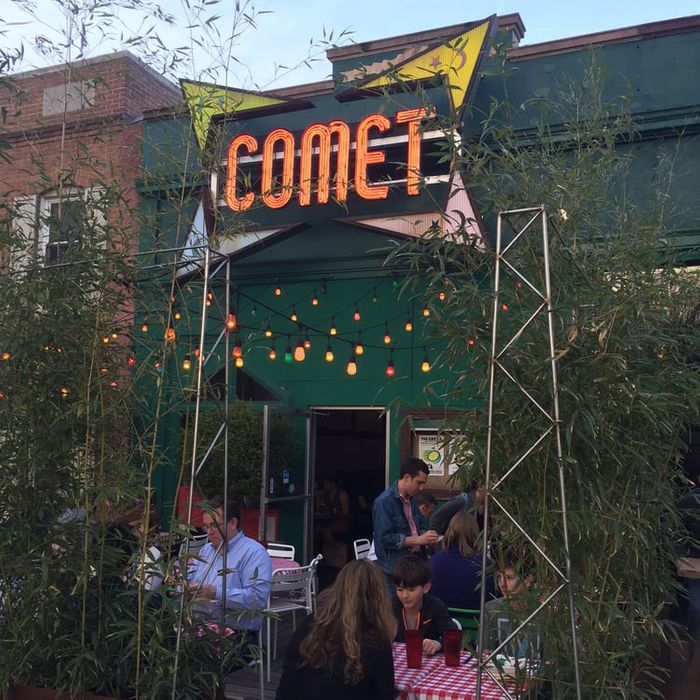 Thankfully, no one was hurt.
Photo: Jenn J./Yelp
Fake news has many all-too-real consequences. The latest development: an armed man arriving at a pizzeria in order to "investigate" invented claims against the actually innocent owner. Yesterday afternoon, Edgar Maddison Welch showed up at Washington, D.C.'s Comet Ping Pong bearing an assault rifle in hopes of uncovering the truth about an anti-Clinton conspiracy theory. While no one was hurt, Welch did reportedly fire the assault rifle and may have pointed it at an employee before he was apprehended by police.
Prior to this presidential campaign, the family-friendly Comet Ping Pong pizzeria was popular in D.C. but not particularly well-known, and had once been featured on Diners, Drive-ins, and Dives. The restaurant was unwillingly thrust into a very different spotlight when fake-news conspiracists accused it of being a front for a child sex-trafficking ring run by John Podesta and Hillary Clinton. In a statement posted to the restaurant's Facebook, owner James Alefantis hopes those responsible for spreading the fake story will recognize the consequences. Neighboring businesses have started fielding threats as well. Meanwhile, Comet will reopen for business tomorrow.