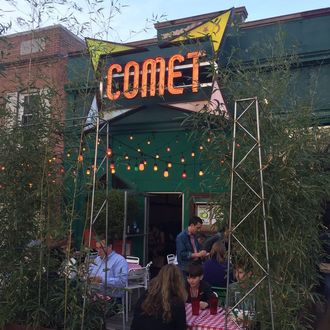 Could use a little boost.
Photo: Jenn J./Yelp
It's been a hell of a month for Comet Ping Pong, the D.C. pizzeria still struggling to convince certain people it's not hiding Hillary Clinton and John Podesta's child sex slaves. Ever since fake-news stories making that claim went viral several weeks ago, staff at the popular local joint have endured menacing phone calls, actual death threats, and then most recently, this week's maniac who showed up to "self-investigate" with an AR-15. That shut the place down nice and tight for a couple days, but the people need their meatball pies and free ping pong, so Comet's doors have already reopened to a "large and supportive" crowd. Only this time, it's with amped-up security.
And that security, as the pizzeria is learning, is costly. So yesterday the owners launched a GoFundMe to help cover that expense as well as the other unwelcome costs they've suddenly inherited on the business side. "We have been hit with immediate expenses that do not fit into our usual small restaurant model," they explain on the page: Beyond the security-personnel costs, there are also lost wages they want to make sure the cooks and servers get, other "security upgrades," and damages to repair inside the restaurant itself. They write that everyone there "is overwhelmed by the incredible love and compassion that has been directed toward us and our community," and add this will provide an outlet "for those who would like to support us in ways beyond enjoying our pizza and drinks." They're asking for $28,000.