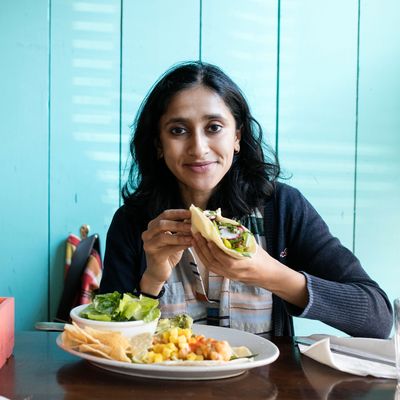 "I love when leftovers are plentiful, a trailer for meals to come."
Photo: Melissa Hom
Comedian Aparna Nancherla — who released her debut album, Just Putting It Out There, this year — spent much of this past Christmas week in New York performing stand-up. She took breaks, though, to drink numerous hot toddies, crash a friend's holiday party and eat all the good snacks, and feast on Himalayan food for brunch on Christmas Day. "When I agreed to catalogue what I eat, I figured, 'I eat, multiple times a day, and I have for years — decades, in fact. I'll be a pro at this,'" she says. "But this was during and after Christmas, and right before New Year's, a forgotten time where, as we all know, nothing counts and no responsibility is taken." Read all about her week, straight ahead:

Thursday, December 22
I started off the day by joining my boyfriend to attend the new "Dreamlands" exhibit at the Whitney. I saw it advertised on the subway, right next to a beautifully reconceptualized movie poster for Passengers featuring disembodied male genitalia. I've never been to the Whitney before, but its aesthetic coyly suggests, "You're doing it! You're being cultured! Like yogurt!"
I failed to eat anything before our 11 a.m. museum date that ended up being at 1 p.m., due to the sleeping habits of a comedian in the wild, so I requested an immediate stop at the café in the museum lobby. I don't remember the name, but in my mind I called it the Eatney. This was mainly because there was a giant kitschy sign reading "Eat" posted above the bar.
Pre-exhibit, we kept it light. I got a latte, and he got a hot chocolate with a specialty cinnamon marshmallow. The most intriguing part of this whole café experience was that the very stylish couple near us both got cappuccinos and one fresh-baked cookie, served with a dainty little jug of milk. The woman Instagrammed all of it so thoroughly, she was basically preparing court evidence.
The exhibit was a wonderful exploration of the history of video art that I highly recommend, even more so if you like beanbag chairs. We stayed there for an impressive four hours. Afterward, we stopped at Fishs Eddy to nab some quirk-forward houseware holiday gifts, and then at a little Mexican place called Molé for happy-hour margaritas and chips and guacamole. You will notice a Mexican theme throughout the week, starting with today.
I then went to do a set at a comedy show at the Upright Citizens Brigade in the East Village, and then met my friend and esteemed comedy colleague Jo Firestone for business and pleasure at Villa Cemita right next door. We shared some tantalizing apps, a huitlacoche quesadilla, elote, and nachos. We also both had jalapeño-cucumber margaritas. I couldn't finish mine because, though delicious, it was too spicy for me. I was truly embarrassed. This has never happened before. Sometimes I don't recognize who my tastebuds are anymore. Aging is unforgiving. Speaking of which, there was also a very loud group having a birthday dinner in the restaurant at the same time — so loud that I had to wonder if the guest of honor had just come out as immortal. We had nachos left, so I took them to go. Who has two greasy thumbs and takes home nacho leftovers? This scrub.
Friday, December 23
The aforementioned Jo and I had a business meeting (hence our prep the night before) at Soho House this morning. We got there at the exact same time, a good sign if there ever was one. It was a breakfast affair, and our meeting companions (I cannot disclose who with, so just imagine three penguins) had all already ordered. So Jo and I synced up and both got the kale and eggs, which featured steamed kale, poached eggs, romanesco sauce, roasted asparagus, and some wheat toast. And, uh-oh, another latte.
I wanted to eat at a thoughtful, measured pace for a business meeting, which means I only got through the suggestion of egg and half a kale before the overly attentive waiter whisked it all away and left me to ponder my napkin. Earlier, another waiter had spilled ketchup all over Jo, which happens, but this was extremely cartoonish. It was as if he was auditioning for the part of Clumsy Waiter. He really sold it. There was ketchup everywhere.
After the meeting, I met up with my friend Nydia at a restaurant I had just discovered earlier in the week called Coffeemania right off of Bryant Park. It just opened up the previous Saturday, so it still had that new-car smell. While the name belies something more casual, it was actually a very polished sit-down place, specializing in hot beverages of the world. We both shared a mixed-greens salad with roasted vegetables, soy-encrusted almond slivers, and a citrus vinaigrette. We also both got cauliflower soup, which came with a poached egg and chile oil. I finished it all off with a Raf coffee, which was described as a Russian coffee that has the exact texture and flavor profile of melted ice cream. I cannot urge you or your loved ones enough to sample a Raf.
We then did some holiday shopping until we were mentally beaten, and then I went back to Nydia's apartment where I was made tea and given some Moose Mix — like a Crackerjack spinoff — to crunch on, as well as some delicate sandwich cookies from Per Se, where Nydia had gone the night before for a dessert tasting. We couldn't tell if the filling was fig or chocolate, a mystery I didn't think I'd ever encounter.
Dinner turned out to be half of a Mediterranean vegetable wrap called an enfes from a Bryant Park pop-up stand earlier in the week, containing spinach, feta, dill, and tomato sauce in a stretchy crêpelike wrap. While it had been a warm oven of heavenly delight when I had the first half, now, in its old age, it was a shadow of itself, vengeful almost. I tried to assuage my palate with two clementines, the orange you didn't even know you loved, and a cookie called Just Almonds, made only of almonds. I am a cookie purist and am not sure I agree that just because something's a sweet circle it's a cookie. I'm just saying, Just Almonds.
I had a comedy show at Halyards in Brooklyn, where I decided the best thing for my cold would be a hot toddy. They served it up right with a lemon slice studded with cloves and a cinnamon stick. I got into the hot-toddy game late, but I'm never going back to regular toddies. Postshow, I caught a bite with boyfriend at M Noodle Shop in Williamsburg, which, if you must know, is open until 6 a.m. most days. Winter weather ruled my choices — a vegetable dumpling soup and scallion pancakes. Boyfriend ordered a sesame pancake with pickled vegetables. If you can't tell by now, I'm a vegetarian. If you can tell, great reading. We finished off the culinary evening with homemade hot toddies. We also started watching the series 3% on Netflix. It's riding that whole wave of dystopian fare, but within the grim horror are tiny moments of befuddled amusement. So, in other words, it captures the current temperature of the nation.
Saturday, December 24
My boyfriend had to go to the airport to visit family, so my first meal of the day, eaten in solo reflection, was M Noodle Shop leftovers. This entailed the rest of his sesame pancake, the rest of my scallion pancakes, and two dumplings that were rescues from my soup. I stopped at the West in Williamsburg for a maple spice latte. The place was an empty dream. I always love New York during the holidays because it looks like the apocalypse just hit, and I realize I think that is my preferred way to experience the city. I lingered at the coffee condiment station not because I needed to, but just because I could.
The day was spent doggedly puttering around, and then I accompanied my sister and her partner to their friend's holiday party in Astoria. There is nothing more gratifying than the foods available at holiday parties. I was immediately plied with rosé and a table of snacks including homemade mashed potatoes with a breadcrumb and mozzarella topping, three kinds of cheeses — including one called Ewephoria (which the hostess apologized for) — with pumpernickel bread, a dip made from vegetable soup mix and some added creams, and then homemade holiday cookies and what amounted to probably an entire jar of chocolate almonds and cranberries. For Santa!
We then went to look at the Fifth Avenue holiday displays, because C.R.E.A.M. (Capitalism Rules Everything Around Manhattan), and I remembered again how my psychological profile becomes decidedly unstable around tourists, and hurried myself home as quickly as possible.
Sunday, December 25
Christmas is my favorite day to play "What restaurants are still open but don't make me look like I'm in a holiday stock photo?" My family barely celebrates Christmas, and this year it was just my sister, her partner, and me. So besides some very casual gift swapping in the morning (I didn't wrap anything this year. I just put things in tote bags and hoped for the best), the main thing that needed to be done was eating. I started my day with an Early Bird granola bar, made somewhere in Brooklyn. I highly recommend them. They are available at random coffee shops, so keep an eye out for the pleasing squares.
We ended up meeting one of my sister's friends at Dawa's in Sunnyside, Queens, for brunch. I had never heard of this place before, but it's amazing. It's Himalayan food and American brunch food, not fusion, but just both. We got an order of vegetable momos for the table, which is a delicious dumpling. And then I ordered baked eggs with purple and yellow cauliflower, romanesco, potatoes, and herbs, and sourdough toast. And get this … two lattes. I can't be stopped. We all split an Italian cheesecake slice afterward, which was the fluffiest and lightest I'd ever had. It was like a cheesecake that had just read Marie Kondo's book and decided to internally declutter. Color me impressed.
The rest of the day was devoted to some of us watching movies, or in my case, the latest season of Transparent. I cannot resist a family dramedy where no one is ever truly happy. My actual family then played the "What's Open?" game again, and this time, a local pizza place won. So dinner ended up being some fresh margherita pizza and penne a la vodka, garnished with homemade jalapeños. Dessert was another dependable clementine and a few chocolates from a gift box from Li-Lac Chocolates in Greenwich Village. Whenever I have chocolates from a gift box by myself, I feel like I was just broken up with in a romantic comedy. Ah well, the price of sugar fully savored.
Monday, December 26
It's almost the tail end of the "food week," and I don't feel I have presented a very compelling case for myself. I think if I wrote a book about diet, it would be called If You See Something, Eat Something. This day felt a little like a Westworld host loop. I felt like I never really started my day, so each meal felt like a do-over. I don't think that analogy tracks, but hey, Champagne problems.
The morning started with my sister and I going to a local coffee shop to try and get some work done. Much to my relief, it was still a dead zone. I thought everything would be back to normal the day after Christmas, and I forgot that today technically counts as Business Christmas. The good part of this is that nowhere was crowded; the bad part of this was that businesses were not bringing their A-game selection-wise. So that meant one latte coming up and one toasted bagel with a sad little container of prepackaged cream cheese. Now, I'm no bagel snob (yes, I am), but there is something about buying a single bagel and spreading your own cream cheese that feels a little post-divorce to me. We tried to do work, but the heat didn't feel on in the shop (no customers, no heat, I guess), so once we could no longer feel our feet or faces, we bounced.
The day did veer in a more exciting direction for Meal 2.0. I went to one of my favorite neighborhood coffee shop–restaurants, Queens Kickshaw. It's a cozy vegetarian place that specializes in grilled cheeses but is constantly shaking up the menu. Today they had a hero sandwich up for offer with hot toasted Italian bread, aged provolone, fried eggplant, peppers, onions, and aioli. I got that and a hot chocolate, a hearty winter meal for me. I think I drank and ate all of it too fast, though, because I only have a very faint sense memory of either — a reverie if we are continuing the bad Westworld analogy.
I had a stand-up show again at night — two, actually — but in between, I got dinner with some friends at a hole-in-the-wall East Village joint called Thai Terminal. I got a cucumber-ginger mojito, which I was able to finish all of, thank goodness. I was also given a spare veggie spring roll, and I ordered some drunken noodles with tofu and veggies. I like when the noodles are so wide, they are like blankets dotted with various ingredients. I couldn't finish most of it, so I took it to go. I love when leftovers are plentiful, a trailer for meals to come.
Tuesday, December 27
Today was also my Grub Street Diet photo shoot, so I wanted to keep my palate fresh. I'm not a huge juicing person, but sometimes if I see a juice place and I'm struck with a moment of self-improvement, I go in and I order something. In this case, I felt my tiny cold needed dissipating, so I went for the ginger-citrus shot and an X-Treme Greens juice (pineapple, spinach, kale, hemp seeds, water, and lime). Honestly, I think juice has more of a placebo effect on me than anything else, but when I placebo, I placebo hard. I took the ginger shot right away to give my immune system something to consider and then stashed the green juice for later, when I'd be craving a green juice (never, this would be never).
Then I was on to the photo shoot at Calexico down the street. The shoot ended up being quick and only as awkward as I made it, trying to eat and look candid at the same time. I ordered a lunch special, which featured a vegetable taco, a tofu taco, a side salad, and some chips and guac. The tofu taco was an unlisted item. It's always exciting to order an unlisted item, like you know the Wi-Fi password without asking. Though, after the photographer left and I had to eat by myself, I did feel a little post-divorce again.
After that, I stopped by a Scandinavian coffee shop called Konditori to "do some work" slash check my phone where I got — you guessed it — a latte. I justified a Swedish coco ball as well because it was the last day of the food diary and I had always wanted to try one. And if not now, when? It's chocolate covered in coconut flakes. Also, I ended up staying in the coffee shop so long that the lady from the juice shop got off her shift and sat at a table near me to do some work, thus confirming my idea that life is indeed just an indie movie with an indiscernible plotline.
I had another show that night that I was running late to, as per usual, so dinner had to be a busy woman-on-the go affair. My sister's partner had made some homemade pizza recently (I live with very proficient cooks) —mushroom and fontina, as well as eggplant lemongrass, so I grabbed one small slice of each, as well as a bite of coco ball, and I was off. The show was at an Irish pub, and it was heckler central that evening. Miraculously, all the hecklers left before my spot, but I did hear them having a summit outside the show discussing how they were misrepresented. In case you didn't know it before, people are monsters. I had a hot toddy again at this bar, and the bartender actually didn't know what it was, so I had to try and have her MacGuyver one together for me. It turned out decent, considering it only had half the ingredients.
I got home very late after grabbing another hot toddy with Jo Firestone, of all people, and her beau Brett Davis (another hilarious comedian) at Cake Shop, a long-running Lower East Side venue that is closing at the end of the year. They have a weekly comedy show, and they've had it for many years, and they said that night it was their last comedy show ever. I'm sad to see it go.
Once home, like a tipsy savage, I gobbled down my old drunken noodles (on the nose, I knowze) and the rest of the coco ball, while finishing the season of Transparent, which, as predicted, made me cry.