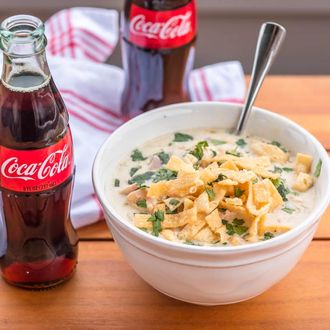 Coca-Cola's marketing team has developed a simple strategy to help people forget how unhealthy and not gourmet soda is: Put bottles right next to healthy, fancy foods! According to the AP, a new sort-of-stealth campaign the company launched hopes to portray soda as a "good companion" for foods that don't leak grease from their bag all over your car seat.
The marketing push, which sounds like it mostly consists of native ads and sponsored posts, features cool young people actively consuming soda, or making paella over a couple of Coke mini-cans. One of the native ads ran on Vox Media's sites with the totally engrossing headline of "It's an Amateur Move to Limit Coca-Cola to Fast-Food." The ad read "like a news story," the AP notes, that casually stressed how Coke will "go with everything." On the more dubious end, the company is tapping food bloggers to Instagram tasty home-cooked steaks, herb-roasted chicken, and bowls of chili with its signature product conspicuously in the frame:

The AP, which has been on a months-long mission to make Coke honest again, got ahold of an internal memo that instructs these paid social-media "influencers" to pair food that's not "grossly unhealthy or over-indulgent" with Coke in glass bottles that "appeal to the aesthetic of 'foodie' culture." So far so good on that, it seems, but it's really only half the battle. A Culinary Institute of America professor points out to the AP that consumers may regret pairing Coke "with everything," like their lobster or Beluga-caviar whatever, because it's "a fairly powerful flavor" that will "obliterate" delicate foods.