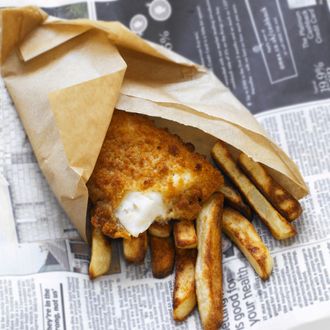 So long?
Photo: malcolm park/Getty Images
Warming waters might mean the end of fish and chips as we know it in the United Kingdom. The fish traditionally used for the dish — species like cod, flounder, and haddock — are moving north as water temperatures rise in the North Sea. Moving in are warmwater species more commonly found near countries like Spain and Portugal, including anchovies, sardines, and particularly squid.
All have become more common in the U.K.'s waters, but squid are really the thing: The Centre for Environment, Fisheries and Aquaculture Science found squid at 60 percent of its survey points in the North Sea. Consequently, Brits may have to let go of their culinary tradition and start eating squid and chips. This is a more more immediate consequence of climate change, but in the not-too-distant future some warn there may be no fish left to eat, with or without chips.