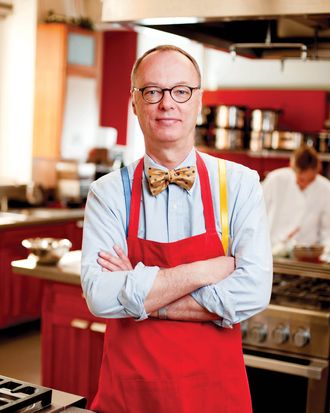 After starting a new recipe company, Chris Kimball was sued by America's Test Kitchen in November.
Photo: Webb Chappell/America's Test Kitchen
It's been an unusually dramatic year for America's Test Kitchen. The drama started in June, 2015, when its co-founder Christopher Kimball says board member Eliot Wadsworth denied his request for a new contract with a fixed term and increased compensation. At the time, he says, Wadsworth told him "no one has more to lose than you."

Kimball had been with the company for two decades, during which he became synonymous with its brand and rigorous, plain-spoken style. But in August, he says he was informed that the board wanted to replace him as chief executive and that he and his wife should move their work space out of company headquarters. He was also asked to sign a noncompete, but says that he would not and that he was subsequently relieved of his management duties. He also alleges that he did not receive severance or a 2015 bonus. Not long after, in November, the bow-tied recipe guru abruptly left the company.
Then in May, six months after leaving the company, Kimball announced he was back in the game and would launch a new venture called Milk Street Kitchen. The company would, no surprise, also be a test kitchen and have multimedia projects including a magazine, television shows, a cooking school, and more. That did not sit well with his former employer.
In November, a year after Kimball's departure, America's Test Kitchen filed a lawsuit against him. The company alleged that it had no choice as Milk Street Kitchen would be a direct competitor and Kimball's new magazine would be too similar to his old one. In the lawsuit, America's Test Kitchen accused Kimball of a breach of trust by "literally and conceptually" ripping the company off and building Milk Street Kitchen while still he was still on its payroll. America's Test Kitchen also says that they were involved in negotiations while he was building the new company.
Kimball finally responded in court last week, filing a counterclaim defending himself against the allegations. According to his side of the story, he started work on Milk Street Kitchen only after being informed that he would be ousted as top executive. He also alleges that he was plainly told that he should start a company to manage America's Test Kitchen's television and radio material.
America's Test Kitchen isn't backing down. In a statement released on Monday by spokesman Joe Baerlein, the company reiterated its allegations that Kimball worked on the project for months while still employed and took information and trade secrets without permission, saying that "Kimball knowingly interfered with longstanding ATK business relationships." Baerlein also argued that the counterclaim "fundamentally distorts the context of Kimball's departure."