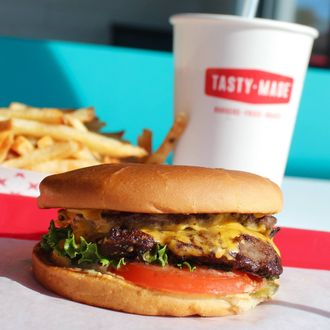 Now with 25 percent less integrity.
Photo: Courtesy of Tasty Made
What sounds like just short of an identity crisis at its new better-burger spinoff Tasty Made may be the fitting end to Chipotle's unqualifiedly bad year: Reviews at its first (and still only) location in Ohio were mixed from the get-go, and now, a month and half in, customer feedback doesn't seem to have improved. An analyst with investment firm Nomura who just sat down with Tasty Made's team reports the verdict was that the burgers were too expensive. That's not good news, of course, but the curious part is how they decided to address the problem — to shave the price down, they voluntarily moved over to conventional beef that's full of the same antibiotics and hormones Chipotle has literally created short films blasting as proof that the competition will "abandon their integrity … to lure people in."

Tasty Made's early press materials traded heavily on the commitment to "food with integrity," by then (late this past fall) about the only thing the Chipotle brand had left. Burgers would "use Responsibly Raised brand beef (from animals that are raised in more humane ways and without the use of antibiotics or added hormones)," the chain pledged, alongside "real ingredients" for shakes and "fresh-made buns" free of preservatives and artificial ingredients. But once the store opened, 90 percent of customers told Tasty Made they either didn't know about the "Responsibly Raised" pledge, or didn't care it existed. Everybody thought menu prices were too high, though, so the team apparently threw up their arms and said, Screw it, we're switching to cheaper beef.
It's true that Chipotle didn't start responsibly sourcing carnitas overnight either, but Tasty Made's ties to the brand should've allowed it to avoid the lag. Nomura's report says that with these price reductions, Tasty Made is now "considerably less expensive" than even Five Guys, where it's $7.69 for a cheeseburger and $4.19 for fries, compared to $2.55 and $1.95, respectively, at Tasty Made. The result, it notes, is Chipotle's foray into burgers is starting to look indecipherable from "traditional fast food."