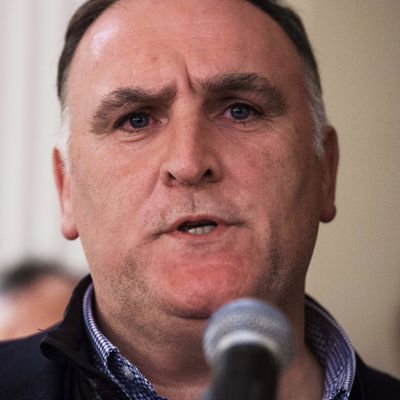 Andrés, who is embroiled in a legal battle against the president-elect.
Photo: Nicholas Kamm/AFP/Getty Images
As completely predictable as it was, it's been nevertheless astonishing to see the speed with which many self-declared foes of Donald Trump have reversed their positions since he was elected president. Republicans and Democrats alike who warned against Trump in severest terms have been all too willing to backtrack for the sake of political expediency — or a potential cabinet position. Likewise, many of the major scandals that were poised to trip him up have fallen by the wayside. He settled the Trump University lawsuit with relatively little fanfare. It seems likely he'll do whatever he wants as far as his business holdings are concerned. So it's worth taking a closer look at the opponents who have not backed down, chief among them, the celebrity chef José Andrés, best known for restaurants specializing in olive-oil bonbons, "tomato caviar," and foie-gras cotton candy.
Andrés, born in northern Spain and raised in Barcelona, trained under Ferran Adrià at the acclaimed El Bulli, and now operates more than a dozen mostly Spanish restaurants in cities including Washington, D.C., Miami, Las Vegas, and Los Angeles. He's considered to have been instrumental in helping to introduce and popularize concepts like small plates, tasting counters, and molecular gastronomy in America. His restaurants in D.C., where he's based, — Jaleo, Bazaar, the Michelin-starred Minibar — have also played a huge part in elevating the city's now-thriving food scene.
Plenty of celebrities have been and continue to be vocal in their opposition to Trump, but most of them don't have much at stake — at least not yet. Andrés, meanwhile, is in a very real legal battle against the president-elect. As has been widely reported, in 2015, shortly after Trump announced he would run for office and promptly made disparaging comments about Mexican immigrants, Andrés withdrew the commitment he'd made to open a costly restaurant in Trump's new D.C. hotel. Trump, naturally, sued him for breach of contract, seeking $10 million in damages. Andrés countersued, arguing that Trump's comments had completely destroyed the restaurant's reputation and his ability to do business, long before it had opened.
This might or might not have proved to be true, but even if it had, Andrés's decision was more than a business calculation: It was also a political statement. At the time, Andrés announced, "More than half of my team is Hispanic, as are many of our guests. And, as a proud Spanish immigrant and recently naturalized American citizen myself, I believe that every human being deserves respect, regardless of immigration status."
This stance is hardly out of character for Andrés. As the profile of celebrity chefs has grown, a number of them — René Redzepi, Dan Barber, Tom Colicchio, Roy Choi, Adrià, and especially Andrés — have used their platforms to explore the political side of fine dining, advocating for changes to improve the world's food systems. Andrés has also been more than just a culinary ambassador. In 2006, he changed the name of his umbrella company from Proximo to ThinkFoodGroup. In 2012, he was honored as one of Time magazine's "most influential people in the world," categorized as an "activist," and described by Anthony Bourdain as "capable of anything," after he started an organization called World Central Kitchen with his wife, Patricia. Inspired by the 2010 earthquake in Haiti, its aim is to build kitchens in developing countries, to serve as a model for sustainable cooking using local ingredients and solar-powered cookstoves, and to feed people in crisis.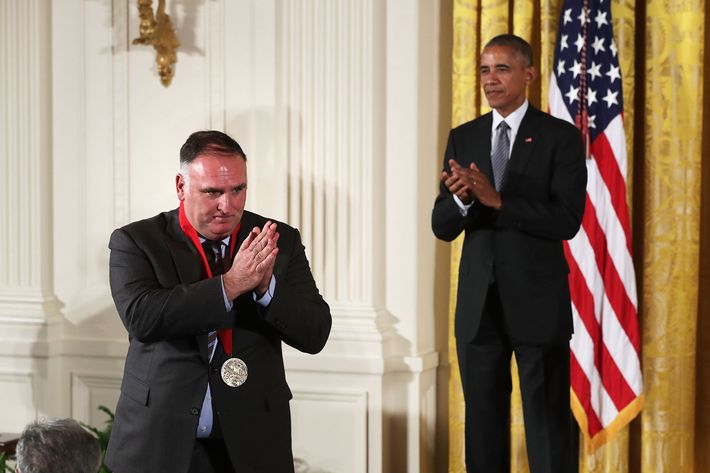 A 2014 article in the Washington Post detailed the "constant hop-scotching [Andrés] does between business and charity." He has taught classes at Harvard and George Washington University. In 2015, he founded a vegetable-centric chain called Beefsteak (as in the tomato), in an effort to push Americans toward eating more healthily. Earlier this year, he was awarded a National Humanities Medal by President Obama, for introducing "new and vibrant ingredients to our Nation, whether through his innovative techniques in the kitchen, his work on clean cooking technology and access to education, or the inspiration he provides to new Americans."
Andrés's refusal to back down against Trump is a different kind of political maneuvering, given that it's mired in a business transaction. He's risking not only a great deal of money, but also some of the optics of what he does — most high-end chefs, who specialize in transporting diners with their expensive, beautifully executed cuisine and hospitality, make a point of limiting the public exposure given to the nitty-gritty of restaurant operations. But a business-related lawsuit is perhaps the most effective way to threaten our future businessman-in-chief. The recent news that the suit will require Trump to be deposed for up to seven hours, just weeks before his inauguration, has received significant play. That deposition will be videotaped, and as NPR notes, Trump's critics will be able "to comb through it, examining both what he said and how he came across — looking for the kind of video moments that quickly flow into social media."
One might wonder why Andrés — or Geoffrey Zakarian, the other celebrity chef to pull out of the hotel, who is also being sued — agreed to work with Trump in the first place; it's not as though he hadn't shown his colors before his campaign. But chefs within the Trump orbit have in the past been able to maintain a certain degree of distance from their infamous landlord: Jean Georges, for example, Jean-Georges Vongerichten's celebrated New York flagship, is in a Trump hotel, something few people seemed to notice or care about until Trump invited Mitt Romney there for the world's most awkward-looking dinner. Now, Andrés has set a new precedent — for both chefs and Trump's opponents in general.