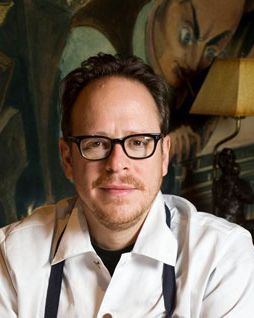 Damon Wise is back, everybody.
Here's a last-minute Christmas present for New York: The talented chef Damon Wise has taken over the kitchens at Greenpoint's Sauvage, where he will be chef-partner, and its acclaimed sister-bar Maison Premiere. Wise previously worked as the corporate executive-chef for Tom Colicchio's Crafted Hospitality and later opened Lafayette with Andrew Carmellini before decamping, in what was considered a big loss for the city's restaurant scene, for Charleston. He opened two places there this year, only to leave his restaurant group in September, and Charleston entirely in November. At the time, he announced he'd be returning to New York, but it wasn't known what his next move would be.
Both Sauvage and Maison Premiere's kitchen were previously helmed by Lisa Giffen, an extremely talented chef in her own right who previously trained under Alain Ducasse. Her cooking at Sauvage was received positively by critics including the New York Times' Pete Wells, who gave the restaurant a one-star review and was particularly smitten with the restaurant's pig-head confit.
Since joining the restaurants only a few days ago, Wise has been trailing at Maison Premiere and spending most of his time at Sauvage, which is where his focus will be for the time being. After the holidays, co-owner Joshua Boissy says, Wise will revamp the menus there, starting with dinner, and they'll develop new dishes over the next few weeks. The changes won't be radical — it's still a French-ish take on modern American food — but it does mean the pig-head confit is on the way out.
Once things stabilize at Sauvage, Boissy adds, Wise will "take some time to see what we can do at Maison to elevate and enhance an already-successful menu."
Considering Wise's résumé and experience, his return is something of a win for New York. Wise says of his return to the city, "when I left, I was pretty jaded and wanted to get away and do something else. But once you get away from it, you get really excited about actually going back. There's an energy level that I can't live without."