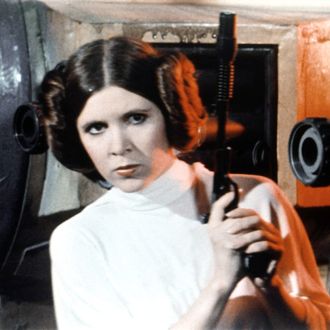 Get that big walking carpet out of her way — she's got free pizza to eat.
Photo: Sunset Boulevard/Corbis via Getty Images
Champion Pizza down in Soho is giving you a way to honor Carrie Fisher that doesn't involve emotionally eating that last tub of Ample Hills Dark Side. People who show up between now and Friday dressed as any Star Wars character — presumably even that cackling rat creature Salacious B. Crumb — will get a free slice of pizza, the popular pizzeria says. They expect to pass out more than 10,000 slices to fans, so it definitely pays to go all-in and bust out the hair buns and white robe: Anyone in a Princess Leia costume is entitled to not just one slice, but an entire free pie. Owner Hakki Akdeniz, who's a champion pizzaiolo (hence the spot's name) and Turkish immigrant, claims he's a lifelong fan who literally learned to speak English so he could watch A New Hope.