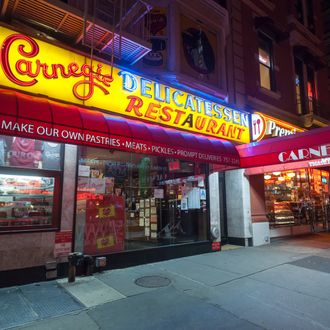 So long.
Photo: Richard B. Levine/Corbis via Getty Images
Time's really ticking if you hoped to score one last Woody Allen, Carnegie Deli's $30 pile of pastrami and corned beef on rye that might outweigh the pint-size director himself. The famed Seventh Avenue delicatessen closes for good at the stroke of midnight tonight, just shy of its 80th birthday.
The past few years weren't great ones for the iconic midtown tourist draw. It closed for ten long months after Con Ed discovered an illegal gas connection last April, and the daytime-soap-worthy legal drama that unfolded between employees and management, and between owner Marian Harper Levine and her now ex-husband Sandy gave the tabloids phrases like "the shyster of smoked meat." It had managed to weather these obstacles, mostly thanks to its culinary-landmark status, but Levine ultimately decided to wash her hands of the whole ordeal, announcing in September that she was just going to close the spot voluntarily.

That didn't stop heartbroken New Yorkers from trying to save it, of course. There were rallies out front, and a former dishwasher in Carnegie's kitchen turned uptown restaurateur cooked up a plan to buy the deli for $5 million. He was promptly rebuffed, and today's New York Post reports that in a last-ditch effort, he's now doubled the amount. (A Carnegie rep tells the paper his offer wasn't "serious," and there's "no interest in discussing the sale of Carnegie Deli.")
Jake Dell, owner of Katz's, New York's only other deli this legendary, eulogized his crosstown rival in the Times this week, saying he's "deeply saddened" to see it go. "The day that Carnegie shuts its doors will be one that New Yorkers and lovers of food history alike will never forget," he wrote. "Fifty-fifth Street and Seventh Avenue will feel hollow as we wistfully watch yet another great legend fall by the wayside." (Though he did take the opportunity to reassure his own devotees that "Katz's is not going anywhere.")
The Carnegie name isn't going totally obsolete. The website will keep selling cheesecake and smoked meats nationwide, for one, and the closure of the Seventh Avenue location doesn't affect either of the licensed branches in Las Vegas and Pennsylvania. New Yorkers say, "So long, and thanks for the calories."