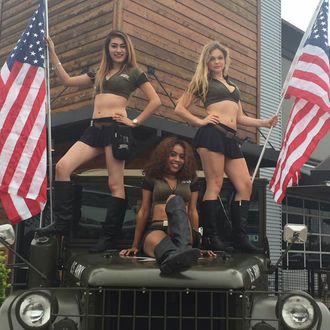 This is hardly surprising, but it looks like a breastaurant invasion will be another hallmark of Trump's America. The New York Post reports that Bombshells, a small Texas chain of sports bars, has plans to "bust out" up to 100 new locations nationwide and expand to roughly 25 times its current size over the next five years.
That seems rather ambitious, but Bombshell's recent earnings make the growth strategy sound dangerously manageable. The Post says sales grew by a semi-insane 10.5 percent in the fourth quarter of 2016, and for better or worse, the future looks even brighter. "I think overall the election is turning out to be very, very positive for us so far," the CEO of parent company RCI Hospitality says. They're also "very excited" about the idea of Andy Puzder running the Labor Department, since that guy's pretty into burgers and boobs as well. And the company definitely has industry momentum on its side: 2014's fastest-growing chain was, believe it or not, the breastaurant chain Twin Peaks.
To help maximize their growth potential — they run sports bars that look like military-sandbag bunkers and issue servers bandolier belts, for crying out loud — executives have also launched a rebranding effort. A spokesman tells the Post that, for example, Bombshells "is not a so-called 'breastaurant,'" despite its name and the fact waitresses have to zip themselves into Army-green crop tops, don miniskirts, and are contractually bound to wearing whatever lipstick color the chain says. The company insists it's "a cheerleader outfit," but regardless, whatever it's doing seems to be popular, as analysts note the chain, run by the owner of Rick's Cabaret, has found solid "cross-appeal" with families, Little Leaguers, and women.