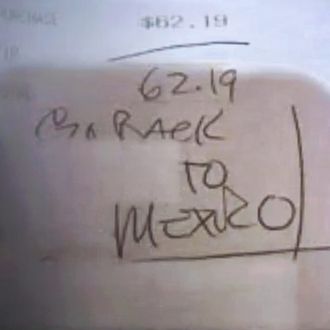 Or maybe don't visit Mexican restaurants?
Photo: ABC
There's apparently no end in sight for this gross new norm of treating racist thoughts like a stomach virus you just gotta get out of your system. For about the 800th time since, coincidentally, Donald Trump burst onto the political scene, a white customer has left his nonwhite server a bigoted note instead of a tip. This time, it was a diner who went to a Mexican restaurant in Virginia Beach and ran up a $62.19 tab. He ultimately found his dining experience there to be subpar, so he scrawled a message on the receipt to server Marie Colunga that simply commanded, "Go back to Mexico," which makes you wonder what kind of staff he was expecting at a Mexican restaurant.

When a local news station got the customer on the phone, however, he said his note wasn't racist. Instead, he tells WVEC it was just his way of handling the "worst service ever" — a supposed set of snafus that included wrong orders, no refills, a half-hour wait for the check, and the fact that "no one spoke English." Colunga countered to the news station — in English, it would seem — "I didn't do anything to him. Even if he didn't like the service or the food, there's not a reason for him to do that."

The man also tells WVEC that he now "kind of regrets" what he did, though he maintains his stance that in America, everybody should just speak English, and if servers can't, it should be the restaurant's job to warn customers beforehand.