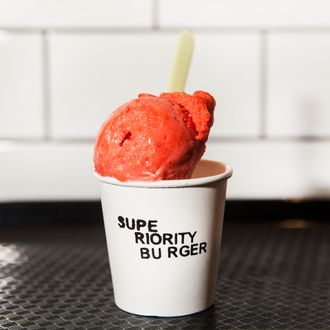 There will be gelato, of course.
Photo: Konstantin Sergeyev
Brooks Headley always closes Superiority Burger on Tuesdays, but on January 3, he's transforming his tiny vegetarian restaurant into "Panettone Hut" for the evening. Rick Easton of acclaimed Bread and Salt Bakery is making the actual panettone — a candied, fruit-studded Christmastime bread — and Headley's in charge of the gelato pairings. Both will be on sale from 5 to 9 p.m.; no judgement if you make a panettone sundae your dinner, as Grub plans on doing.