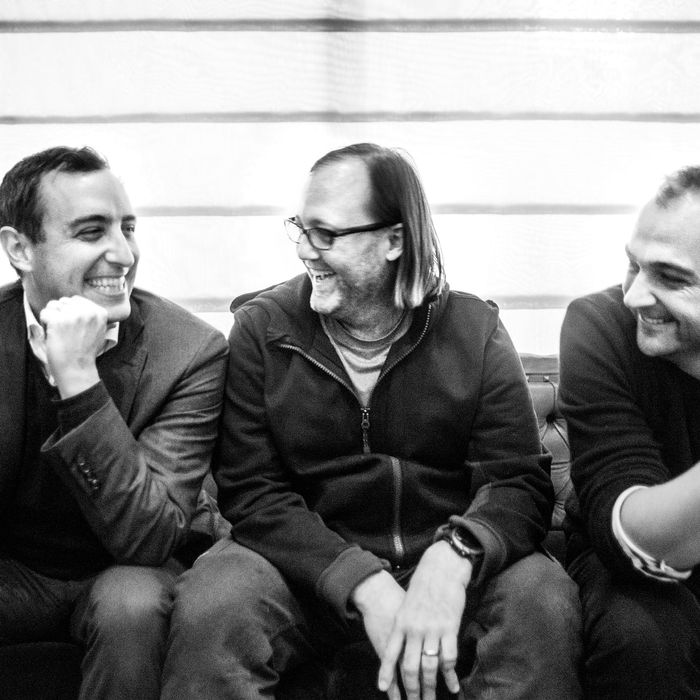 Will Guidara, Wylie Dufresne, and Daniel Humm
Photo: M. Cooper
"Where's Wylie?" asks Daniel Humm, the chef and co-owner of Eleven Madison Park and the NoMad. Humm, along with his business partner Will Guidara, are sitting at the NoMad waiting for another celebrated chef, Wylie Dufresne. It's clear that Humm, who in his spare time runs marathons and cycles competitively, doesn't love idling for too long. It's only been a couple of minutes, and he's already checking his phone, walking around the room, getting antsy. Eventually, though, Dufresne does arrive. "I was downstairs," he says, explaining he was in the kitchen, working with Humm's staff all day. "Someone could have come and gotten me!"
Dufresne is working with Humm, Guidara, and their staff because, starting tonight and running until December 23, some of Dufresne's most famous dishes will be on the menu at the NoMad Bar and in the NoMad's library. The trio says Dufresne's guest stint is just the result of mutual admiration — and Guidara's desire to have a few more bowls of Dufresne's rye pasta with shaved pastrami, one of the most popular dishes. "He's on record as ordering that dish more than anyone else," Dufresne says of Guidara, who explains Alder's former bar manager, Kevin Denton, is also one of his best friends.
And so, the collaboration will also feature one of Alder's drinks, Dr. Dave's Script Pad, a yuzu-and-maple-syrup-dosed rye drink. Ranging in price from $14 to $22, the food on the roster is rye pasta with shaved pastrami, the Alder interpretation of pigs in a blanket, Dufresne's purple-hued pub cheese with Martin's potato "chips," and the chef's famed version of eggs Benedict with deep-fried hollandaise.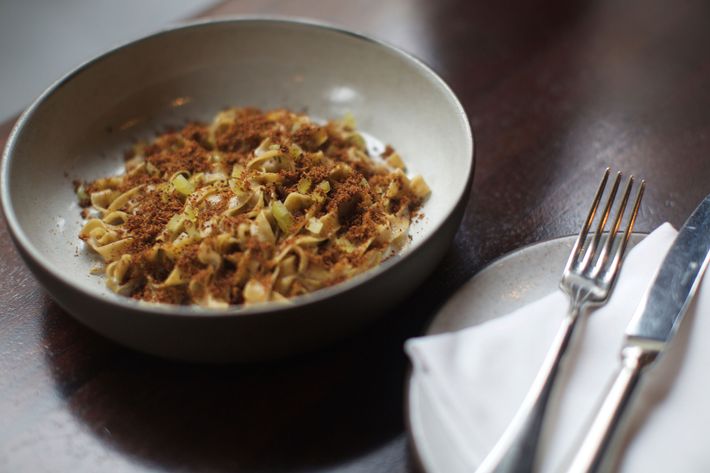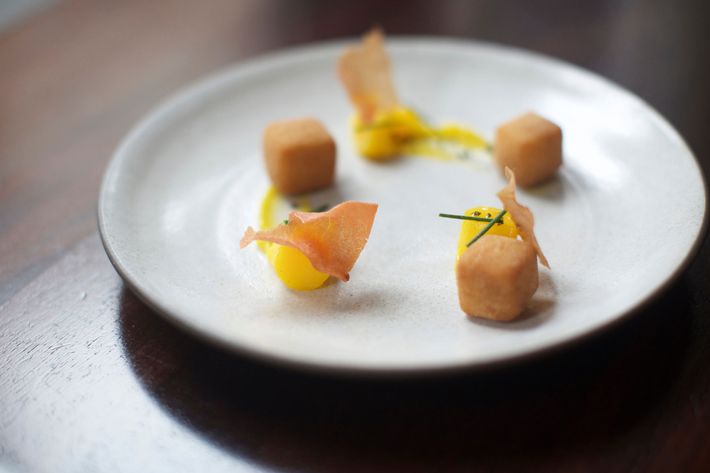 It will be the first time the public can try the dishes again since wd~50 and Alder closed in 2014 and 2015, respectively. And in a way, the dishes' reappearance will serve as something of a time machine for New Yorkers, who, like Guidara, miss Dufresne's restaurants, which were always a destination for cooks and other people in the industry.
Humm says the first time he ate at wd~50 was in 2004, when he was on a trip to New York while working at Campton Place in San Francisco. "Everyone told me to eat there … it was kind of the first time I was truly exposed to looking at food in a totally different way," he says to Dufresne. "That's the first time I met you — you probably don't remember because I was just this guy from Switzerland."
"You came a bunch," Dufresne counters.
"Yeah," Humm says, "but that was my first time. That meal actually impacted me a lot. I don't know if I ever told you that."
Dufresne, meanwhile, is also working out the details of his upcoming doughnut shop — Du's Donuts and Coffee, which will be in Brooklyn's William Vale Hotel — and even he probably won't be able to find a way to work rye pasta onto the menu, so for New Yorkers hoping to relive the past a little (and, given the events of this week, maybe even find some comfort in the process), get to the Flatiron District before the dishes disappear again.