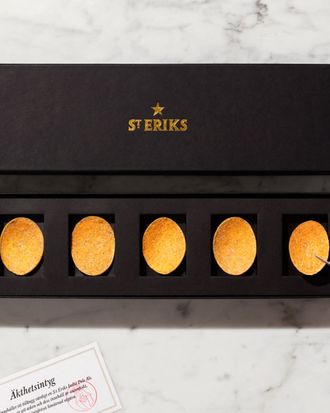 Careful now.
Photo: St. Eriks
Flame Grilled Steak Pringles these are not: Swedish craft brewery St. Eriks has created what it claims are the "most exclusive potato chips in the world," as that's the only food ostensibly worth pairing with its "first-class" India pale ale. The website created for the stunt explains these aren't "just any potato chips," but rather "potato chips made with some of the most exclusive ingredients available in the Nordics … prepared by the talented chefs of the Swedish National Culinary Team."
The six ingredients include matsutake mushrooms picked by a person wearing cotton gloves, crown dill from Sweden's Bjäre peninsula, potatoes plucked from a "south-facing" hillside in Ammarnäs too steep to be accessed by machines, freeze-dried wort from the brewery's IPA, a very specific variety of Swedish onion "always planted on the eighteenth of May," and a seaweed that tastes like truffles and is only found in cold tidal waters off the Faroe Islands. Also, these uniformly sized chips were all handmade, the snack's creator, chef Pi Le, tells Adweek. That may or may not justify their $55 price tag for a five-pack, which comes in a fancy gold-lettered black box, but that's what you'll be paying regardless.

If this sounds like a way to one-up friends who snagged the world's hottest chip before it sold out instantly last month, the "very limited edition" of 100 boxes that St. Eriks just released has already sold out as well. On the other hand, you may now have the winning recipe for next year's Lay's "Do Us a Flavor" contest.