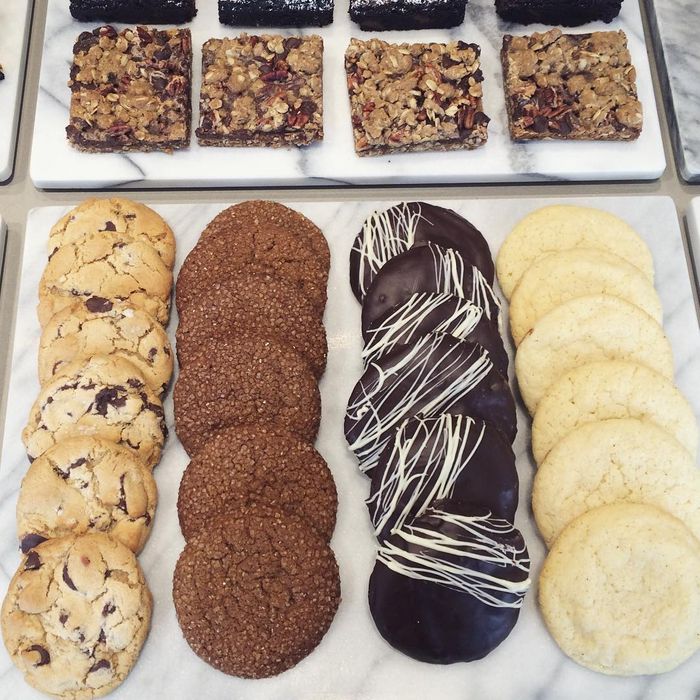 Your "I Voted" sticker will earn you a free Mah-Ze-Dahr cookie.
Photo: Courtesy of Mah-Ze-Dahr Bakery
To incentivize Americans to fulfill their civic duties today, businesses across the country are offering freebies. At most places, all you have to do is show up with your "I Voted" sticker, and you're good to go. And, hey, after standing in long lines to cast your vote, you deserve a treat! Here's where to go — just make sure to vote first:
New York City:
Mah-Ze-Dahr Bakery
The fantastic West Village bakery is giving voters a free cookie — just show up with your "I Voted" sticker.

Nitehawk Cinema
Your sticker will get you draft beers and well drinks at happy-hour prices all night long. This is also a good spot to walk the election results unfold.
The Meatball Shop
How about a complimentary order of mini buffalo-chicken meatballs? Available at all locations.
Paulaner
Buy-one-get-one-free beers, plus free popcorn, at this Lower East Side pub.

National Chains:
White Castle
Purchase a Crave Case online, and enter the promo code "USA" to get a free gallon of iced tea with the purchase. And if you're a veteran, you can get another meal for free on Veterans' Day later this week.
Krispy Kreme
Show your "I Voted" sticker at participating locations and receive a free glazed doughnut. (But if you're in Connecticut, Utah, or Wisconsin, the local Krispy Kremes are not participating.) For New Yorkers, make your way to the dark transportation hub that is Penn Station for your free doughnut.

Caviar
Delivery service Caviar will waive its delivery fees when you order on Election Day. All you have to do is type in ELECTIONS16 at checkout. For New Yorkers, Caviar delivers in Manhattan, Brooklyn, and Queens. They also deliver in our nation's capital, Chicago, Portland, Sacramento, Philadelphia, and Los Angeles.
Chuck E. Cheese
Get a free personal-size pepperoni pizza with any other pizza purchase. Use coupon #5253, or let your cashier know you voted.
7-Eleven
Use the mobile app today — available on iPhone and Android — to get a free coffee, latte, cappuccino, or hot chocolate.
BurgerFi
For $5, get the Conflicted Burger — one all-natural Angus beef patty, one veggie patty, with both American and white-cheddar cheeses — which is usually about $10. Mention BurgerFi's Instagram post to redeem the offer.
Bananas Smoothies & Frozen Yogurt
This one is a post–Election Day discount. Swing by the smoothie chain tomorrow for a 45-cent "Orange You Glad It's Over?" smoothie, to commemorate the election of the 45th president.
Bob Evans
Order in or carry out after 2 p.m. at the diner and use this election coupon to get 30 percent off.
Great American Cookies
More cookies. Just show your sticker and you can get a free one from the gourmet cookie shop.

East Coast Wings & Grill
Get five free wings with the purchase of an entrée.
We'll continue to update this post as we learn of more deals.
* This post has been updated to reflect that Ben & Jerry's is not giving out free scoops of ice cream to voters today.