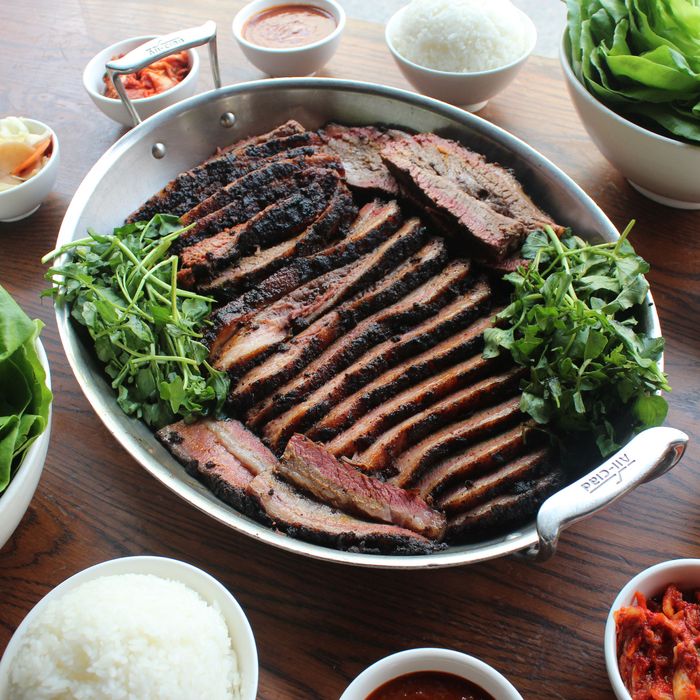 Momofuku Ssäm Bar is back, and they've got brand-new large-format brisket.
Photo: Andrew Bezek
Every month in New York, there's bound to be a bewildering number of new dishes to eat, drinks to imbibe, and food-themed events to attend. It would be impossible to pack in every single thing each month, and the hardest part often is just figuring out what's really worth your limited time. So Grub kicks off each month with a curated collection of dishes, drinks, and events that should absolutely be on your agenda. Make your plans now.
1. Celebrate Ssäm Bar's 10th Anniversary With a Giant Brisket:
David Chang's influential and always impressive Ssäm Bar has returned from a brief break with a face-lift. The seats now have backs, but, much more important, there's a new large-format meal: The restaurant has debuted a seven-spice beef brisket ssäm ($295). Slow-cooked brisket is served with a watercress and herb salad, a couple of bowls of rice, bibb lettuce for wrapping, Korean-style barbecue sauce, kimchee, pickles, and horseradish sauce. And it's enough to feed six to ten people, making it a worthy candidate for a Thanksgiving celebration with friends.
2. Attend a Fair Dedicated Entirely to Natural Wine:
Now you know where to take that one friend who won't stop talking about orange wine. On November 6 and November 7, natural-wine fair RAW WINE will land in New York for the first time. Winemakers from 26 countries, including Georgia's Nika and Italy's Frank Cornelissen, will attend the celebration, where you'll be able to taste as many different wines as you want at no extra charge. There will also be a more limited selection of cognac, vermouth, cider, and tea, as well as a small table dedicated to wines from small-scale Georgian producers who couldn't afford to come. Plus, if you work in the food industry you only have to pay $20 for your ticket.

3. Stare at Some Art, Then Find Out How Ignacio Mattos and Crew Do Pastries:
The Estela guys, Ignacio Mattos and Thomas Carter, have expanded with an uptown branch, Flora Bar, in the Met Breuer. Along with the actual restaurant, where you can eat tuna tartare and an omelette with caviar, the duo has also opened a café called Flora Coffee where pastry chef Natasha Pickowicz offers classic pastries like sesame pound cake ($5), chocolate-chip cookies ($4), and sticky buns ($6) to go with ham and butter sandwiches ($9) and grain salad ($15.)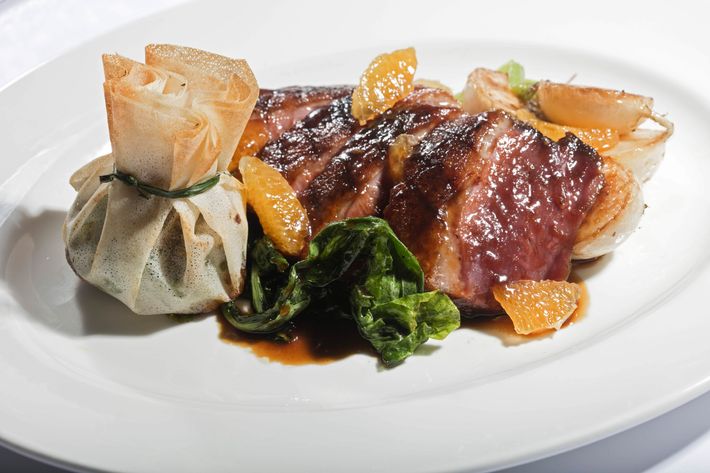 4. Have Your First Meal at Keith McNally's Latest Restaurant:
Flocking to the latest Keith McNally project is a downtown rite of passage. Tonight, the tastemaker goes farther downtown than ever before with Augustine, his restaurant in the Financial District's new Beekman hotel. (It's also McNally's first hotel restaurant.) The space is typically McNally-esque with its brown banquettes and vintage mirrors, and cocktail legend Dale DeGroff has consulted on the drinks menu. On your hit list: rotisserie meats, cheese soufflé, and all five of DeGroff's martinis.
5. You've Had Mekelburg's Baked Potato, So Now It's Time for Fully Loaded Squash:
Clinton Hill's gourmet grocer and beer bar Mekelburg's first found citywide acclaim for its salt-baked, raclette-topped baked potatoes. It's fall now, a.k.a. squash season, so Mekelburg's has rolled out a sister dish. It's a wedge of maple-roasted squash ($14) that's topped, in fully loaded fashion, with burrata, savory bagna cauda, crunchy pepitas, chives, and pickled goat horn peppers for punch.
6. Eat Fried Clam Bellies in Bushwick:
The East Williamsburg Industrial Park is not exactly beachy, but as far as Grub is concerned, clam bellies can be enjoyed anywhere you damn well please. Bushwick's recently opened Cape House offers the full New England experience: fried scallops and whole belly clams ($10 to $18), New England–style clam dip ($7), onion rings ($5), and raw-bar treats.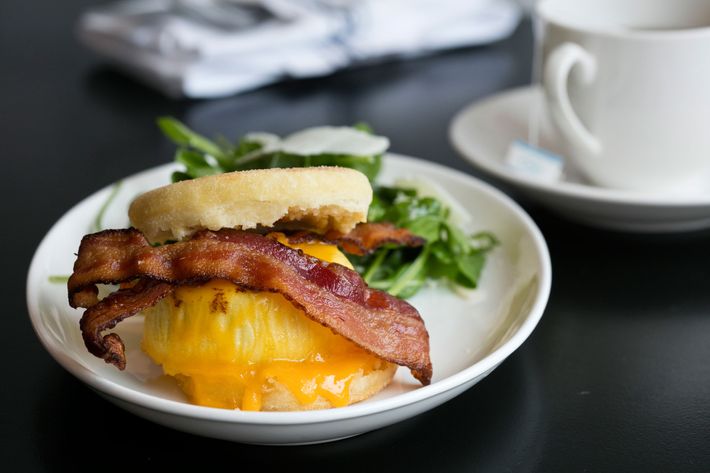 7. Eat NYC's Newest Breakfast Sandwich at Faun:
There's always room in New York for another breakfast sandwich. Prospect Heights' Italian-ish restaurant Faun recently launched brunch service, and the menu includes a couple of noteworthy sandwiches. There's chicken Milanese on focaccia ($17), and an Italianate take on the breakfast sandwich made with toasted piadina flatbread, pancetta, egg, and cheddar ($15). Over in Manhattan, Jose Garces's Battery Park outpost of Amada also launched a brunch menu with sangria pancakes ($14), huevos flamencos ($13), and rösti-style potatoes ($7).

8. Catch the Premiere of the Documentary About New York's No. 1 Pizza Nerd:
Scott Wiener has made a life out of pizza: throwing the annual charity event Slice Out Hunger, leading tours of New York's pizzerias, and hoarding the world's largest pizza-box collection. And this month, he'll have his own documentary, too. Following Wiener on tours, a trip to Naples, and as he organizes Slice Out Hunger, Scott's Pizza Tours will debut at DOC NYC at the IFC Center, where it will play on November 11 and 14. Tickets are $16 for kids and seniors, $18 for adults.
9. Buy Tickets for Dominique Ansel's Korean Barbecue–Inspired Dessert Menu:
Today at noon, Dominique Ansel Kitchen will make tickets available for the December seatings of his newest U.P. menu. (November tickets are already sold out, so this is a situation that requires planning ahead.) Inspired by Korean barbecue, the new menu — called Dominique's Dessert Barbecue ($55, two per person) — isn't a tasting but a communal meal. "Banchan" include marcona almonds with bamboo honey, followed by table-side grilled dishes like passion-fruit-caramel rum bananas, and a traditional castella cake with sweet corn hot chocolate.
10. Weather the Cold With a Chicago-Style Hot Dog:
Head to Hank's Juicy Beef, New York's only destination for Chicago's Italian beef sandwich, for a Chicago-style hot dog ($8). Made with a quarter-pound Vienna beef hot dog, it is, as they say, dragged through the garden, topped with green relish, sport peppers, onions, tomatoes, and pickles.
11. Go Eat Lasagna for Two at GG's:
Anyone raised on red sauce knows that lasagna should be served family style. At GG's, the East Village Italian-American and square-pizza spot, they're not dealing in any wimpy single servings on petite plates. Portioned for two ($30), so you can fight over the crispy corners, this 12-layer lasagna comes with beef ragù that's topped with egg yolk and served with giardiniera on the side.
12. Drink an 'All Day Martini' at the Wild Son:
When the Wild Son debuted under the High Line with its healthy-ish menu of blueberry-corn waffles and pulled-chicken sandwiches, the plan was for it to become an all-day restaurant. That's being realized now, as the restaurant debuted a dinner menu with low-ABV cocktails like an All Day Martini (Contratto bianco vermouth, fino sherry, olive) and dishes including a raw walnut "pâté" ($8) and smoked and roasted trout ($26).
13. Watch Everyone's Favorite Ramen Movie in Theaters:
The creators of Tampopo spoofed the spaghetti Western by making … a movie about ramen that has Western motifs. Currently being shown at the Film Forum through November 3, it's also the most celebrated food movie this side of Ratatouille, a charming and funny story about two truck drivers who help a widowed restaurateur learn to cook great noodles. Of course, Tampopo is best served with a side of actual ramen. Make it dinner and a movie by hitting up the buzziest ramen-ya in town right now: Bushwick's Ichiran.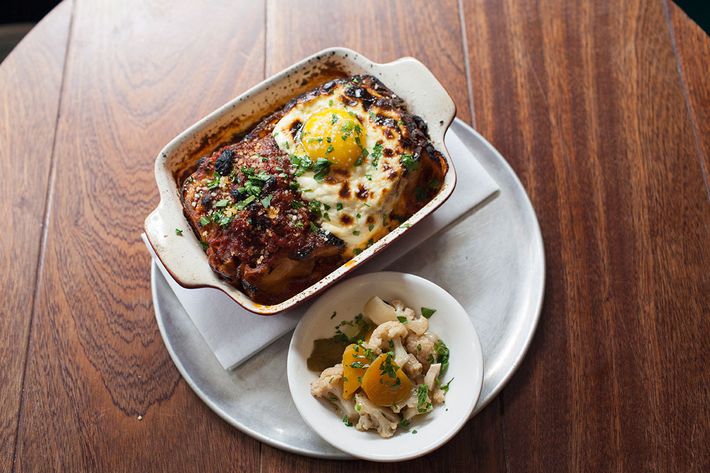 14. Drink a Lot of Local IPAs … in Cans:
A lot of local craft breweries have realized cans are great for beer, but it's not always easy to get your hands on those micro-batch brews made with hops grown by that one grouchy guy who never got a flip phone. With that in mind and to celebrate the release of author (and New York contributor) Joshua Bernstein's Complete IPA, Gowanus's Three's Brewing will throw a big party on November 6. They're inviting a gaggle of great breweries — including Other Half, Evil Twin, Gun Hill, and more — to serve their beers by the can, and there's no cover, so you'll only have to pay for as many beers as you want to drink.
15. Go Retro With Sauce Diane at Faro:
Tom Colicchio has opened a hotel restaurant dedicated to ye olde New York, where oysters Rockefeller and baked Alaska were the norm, but that's not the only place getting in on the old-school action. If you're looking to eat the food your parents thought was retro, Bushwick's Faro can help you out. Its new fall menu includes a variation on the mid-century classic sauce Diane ($27), beef served with a cream-and-brandy sauce with garlic and mustard. Here, the mushrooms are not cooked into the sauce but shaved on top of the dish.
16. Try White Truffles Over Ice Cream:
It's white-truffle season, so all of your favorite Italian restaurants are getting in on the action. Aficionados have undoubtedly had white truffle shaved over all of their favorite pastas, but Missy Robbins's still-hopping Lilia is going in a sweeter direction. Over in Williamsburg, she's serving the Italian Job Deluxe: vanilla gelato topped honey, olive oil, and shaved white truffles. It's pricey at $28, but when was the last time you had gelato this luxe?