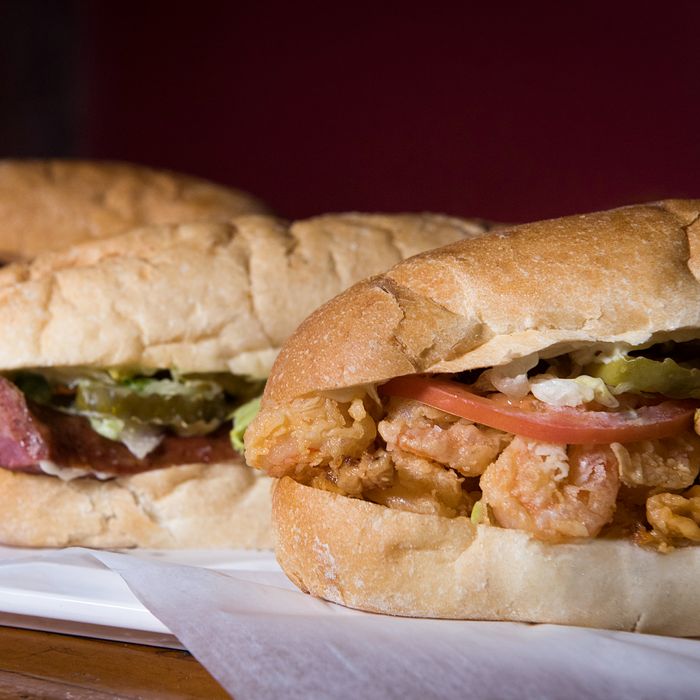 Go eat po'boys at the Gumbo Bros this Friday.
Photo: Liz Clayman
Every month in New York, there's bound to be a bewildering number of new dishes to eat, drinks to imbibe, and food-themed events to attend. It would be impossible to pack in every single thing each month, and the hardest part often is just figuring out what's really worth your limited time. So Grub kicks off each month with a curated collection of dishes, drinks, and events that should absolutely be on your agenda. Make your plans now.
1. Eat a Dinner Prepared by a Michelin-Starred Street-Food Legend
When renowned chefs cross borders to cook special dinners together, they tend to come from the same culinary circles. That's not the case with Singapore's Chan Hon Meng, whose Hong Kong Soya Sauce Chicken Rice and Noodle is one of the first Michelin-starred street stalls, and Christopher Kostow of Napa Valley's renowned the Restaurant at Meadowood. The two chefs will team up at Indochine from December 7 through December 9 for Tiger STREATS, for which they'll create a three-course menu that ends with a collaborative dessert. Reservations (for parties of two, 6:30 p.m. and 9 p.m. seatings) go live this morning at 10 a.m., and it's one dinner you can pretty confidently assume won't happen again — so get on it.
2. Power Lunch at Le Coucou and Augustine
Stephen Starr and Daniel Rose's old-school looker Le Coucou is now open for lunch. The two-course prix-fixe menu ($48) features some familiar dishes from the dinner menu like halibut with beurre blanc and a pot-au-feu from the rabbit entrée. There's also beef tartare with pommes frites, autumn salad with blue cheese and Ibérico ham, and fried whiting with maître d'butter. Further downtown, Keith McNally's recently opened Augustine has also launched lunch with duck-confit salad ($25), salt-baked oysters ($18), and a lobster roll ($31).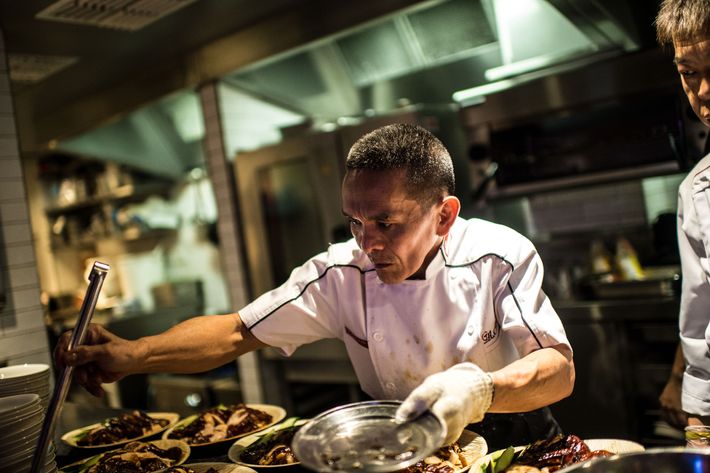 3. Got Try Breakfast at Leuca
Andrew Carmellini's handsome Italian restaurant in Williamsburg's space age-y William Vale Hotel now serves breakfast (7 a.m. to 11 a.m.) and lunch. So take a half-day, sleep in, and treat yourself to polenta waffles with mascarpone ($15) and some country chicken sausage on the side ($6). Or, take off early, and drop by for a lunch of ricotta with honey ($12) and salumi sub ($14). For those who can't get out of work but are looking for a leisurely morning meal, the charming Tribeca restaurant Yves will start brunch on December 3 with a menu featuring chocolate-chip pancakes ($17) — why not? — and blackened chicken ($16).
4. Get a Sneak Preview of Rome's Trapizzino
Stefano Callegari has created something of a sensation in Rome with his trapizzino, pizza bianco bread that's split down the middle and stuffed with old-school dishes like tongue in parsley sauce, braised oxtail, and meatballs in tomato sauce. (Consider it the thinking man's hot pocket.) Callegari has opened seven locations of Trapizzino in Italy, and next year he'll bring his budding chainlet to the United States. But first he'll preview his creation on December 1 and December 2 during lunch at Marta, where four of his most popular trapizzino (all $12) — pollo alla cacciatora, coda alla vaccinara (braised oxtail), parmigiana di melanzane, and doppia panna (stracchiatella with anchovy) — will be served.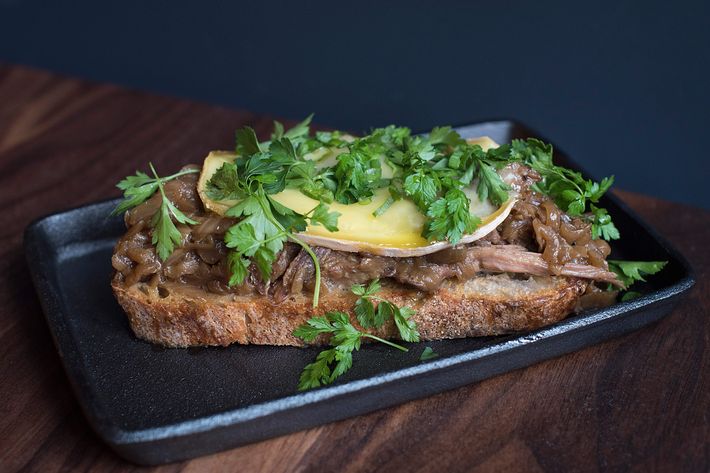 5. Try French-Onion Toast in Williamsburg
Cheese and wine are the themes at Denizen, a new Williamsburg bar and restaurant located at 88 Roebling Street, from a team that includes the former executive chef of the Pines and a Casellula fromager. A number of dishes incorporate cheese, and those who are nostalgic for french-onion soup will want to take note of the french-onion toast ($12). Made with braised oxtail and a slice of Woodcock Farm's taleggio-like Timberdoodle cheese, it's a more date-appropriate version of the winter-worthy dish.
5. Head to Flushing for a Cheese Festival
For the second year in a row, Queens food guy Joe DiStefano & Co. will transform the Flushing Town Hall into a cheese emporium. This year's edition of the Great Northeast Cheese & Dairy Fest ($60), set to go down on December 10, will feature 75 different cheeses from the likes of Consider Bardwell, Vulto Creamery, and Bovina Valley Farm. Along with straight-up cheese, there will also be cheesy dishes like New York chefs like Will Horowitz and Hugue Dufour, who will cook a mashed-potato and Cheddar-cheese curd dish called pommes aligot.
6. Have a Drink at Harold Moore's Winter Rooftop Bar
If you haven't checked out Harold Moore's Southern restaurant Harold's Meat + Three, stop waiting. And after, take the elevator up to roof of the Arlo Hudson Square, where the chef is doing a pop-up bar at the seasonal Good Story. Dubbed Winter Wonderland, it's decked-out in holiday décor — ornaments, Christmas lights, trees done up with fake snow — and features food straight out of your parent's party like cheese puffs ($5) and sausage balls ($6). Of course, there will be drinks including the Tom and Jerry (egg nog, bourbon, nutmeg; $14 for a glass or $65 for a pitcher) and Jingle Juice (Champagne punch with cognac, cranberry, and citrus; $14 for a glass or $65 for a pitcher).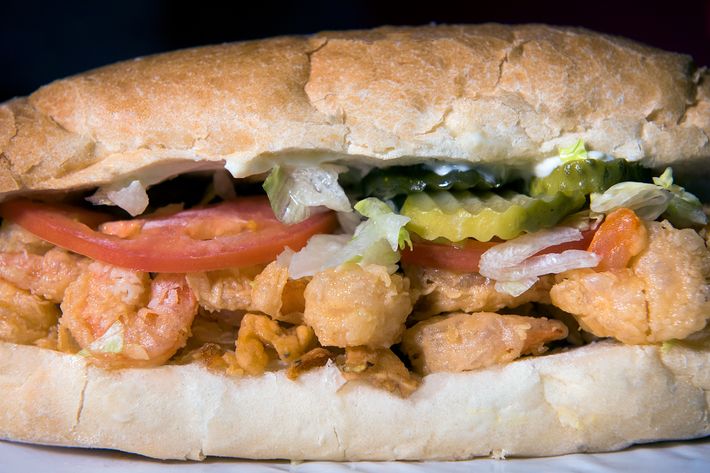 7. Feast on True Po'boys
New York is, for sure, an international sandwich emporium. You can find an excellent jianbing or a top-shelf torta in New York, but quality po'boys aren't so easy to come by. When the guys behind the Gumbo Bros open their first restaurant at 224 Atlantic Avenue in Cobble Hill this Friday, they'll look to change that. Along with the eponymous gumbo in both Creole and Cajun forms, they'll offer the iconic sandwich, with fillings like roast beef and fried shrimp, on French bread from New Orleans's Leidenheimer.
8. Check Out a New Filipino Barbecue Spot
There's a solid bunch of Filipino restaurants in Queens, places where you can eat sisig or chicken adobo. Now, Carroll Gardens has a new restaurant, F.O.B. at 271 Smith Street, expressly focused on Filipino-style barbecue prepared over a lava-rock grill. There's skewers of sauced-up chicken and pork ($13), spare ribs that are braised in beer then grilled and served with banana BBQ sauce ($16), and liempo-style pork belly with spicy cane-vinegar dip ($14).
9. Warm Up With Venison From a Wood-Fired Grill
On December 8, the owners of the recently opened omakase restaurant Akashi will open the 320 seat Boucherie, their latest project in the West Village. This one, located at 99 Seventh Avenue South, is all about the meats. In addition to the regular dining room, there's an open-kitchen area with a wood-fired grill where diners, at the so-called butcher bar, can eat dishes like côtes de chevreuil or a herb-crusted rack of venison. Also known as the best way to pretend you're upstate on a hunting trip.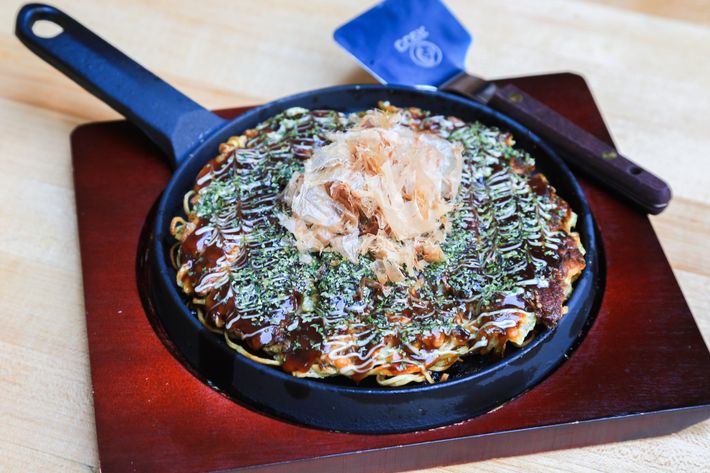 10. Check Out Ippudo's New Okonomiyaki
You may have heard that Ippudo recently debuted a new vegetarian ramen made with a labor-intensive sesame-seed broth. But it's just one part of the ramen spot's menu makeover, which has brought new dishes like simmered wings and stewed spicy tofu to the table. Okonomiyaki freaks will want to take note that the Japanese omelet is on the menu here, made with crisp ramen noodles on the bottom.
11. Hang Out With Dave Chang and Peter Meehan While They Wax Poetic About Vegetables
To celebrate the release of Lucky Peach's latest cookbook Power Vegetables!, author Peter Meehan and Momofuku man Dave Chang will convene at 6 p.m. on December 6 at Rizzoli Bookstore to answer such existential questions as, "What are vegetables?" Admission is $40 and includes a copy of the book, and you'll be able to find out everything you needed to know about the largely vegetarian and sometimes vegan cookbook for the Superiority Burger era.
12. Stock Up on Hot-Chocolate Mix at Kreuther Handcrafted Chocolate
Winter is for sitting around fireplaces, drinking hot chocolate while looking at the snow (or otherwise pretending it's snowing), and then napping because doing that was very taxing. This year, boost your hot-chocolate game with a mix from Gabriel Kreuther and Marc Aumont's new chocolate shop in Midtown, New York's latest destination chocolatier. It'll also make for a fine Christmas present — not that anyone right-minded would complain about Swiss Miss.