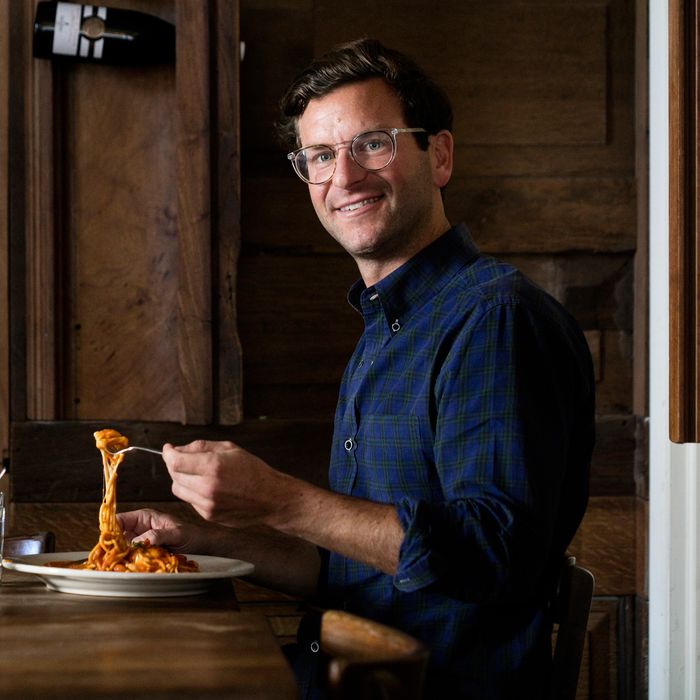 At Malaparte, eating his favorite (off-menu) chitarra pasta.
Photo: Melissa Hom
As the co-founder and co-CEO of Warby Parker — the eyeglass business that inspired countless other start-ups — Dave Gilboa knows a thing or two about employee morale. That's why, this week, he hosted a Halloween party for his whole company, complete with a dress-up contest, sliders, and tequila. He also celebrated the holiday by hosting a party at his apartment, which he wisely called on Shake Shack to cater. Read all about it, straight ahead.
Thursday, October 27
At 6:45 a.m., I grabbed a Soylent on the way out the door to physical therapy. I'm not much of a cook, and I don't keep much food in the house, so I started ordering Soylent because it's quick and easy. I tore my ACL and meniscus a few weeks ago, so it's especially helpful.

There's a Think Coffee next to my physical therapist, so afterwards I stopped for a latte and a parfait with yogurt and berries.
The entire company dressed up in Halloween costumes for the day. I was Mr. Peanut — the cane was part of the costume, and functional post-surgery. It was a festive day in the office. I ordered a salad with chicken from Sweetgreen, which is a typical lunch for me. I like that it's healthy and quick.
Every few months, we'll do a team outing, typically with a theme. We rented out One If by Land, Two If by Sea for our Halloween party. It's the second time I've been there, under very different circumstances — it's a very fancy, romantic restaurant most of the time. We had a DJ and speakers, and a costume contest. I had a couple of sliders, a rigatoni dish, and some other passed foods. A few tequilas, too.
Friday, October 28
I had to travel to Philly to do a fireside chat with University of Pennsylvania president Amy Guttman for the unveiling of Pennovation Works, a new 23-acre innovation campus. I was part of the ribbon-cutting ceremony, where a robot delivered 3-D-printed scissors to the stage.
There is not the best food in Penn Station, so I had an egg-and-cheese sandwich from Zaro's. I didn't have too much time to explore Philly; it was pretty much from the train station to campus to back. But while I was there, Penn served soft pretzels, a Philly staple. The best option at 30 Street Station seemed to be Cosi, so I grabbed a sandwich with turkey and avocado.
I came back to New York and had dinner at RedFarm — my real meal of the day. It's one of my favorite places for Chinese food in the city. I ate pork-and-shrimp soup dumplings, filet-mignon tarts, chicken salad, and lobster long-life noodles.
Saturday, October 29
I woke up at 10 a.m. and went to Jack's Wife Freda, one of my favorite breakfast spots. I shared the green shakshuka, the Mediterranean breakfast plate, grapefruit, yogurt and granola, and a latte.
I hosted a Halloween party that night, so I spent the day running around, picking things up. I stopped at Nourish Kitchen + Table for lamb meatballs, a kale salad, and sweet-potato noodles.
At 8 p.m., the Shake Shack that I ordered arrived, and the party started at my apartment. I was trying to line people's stomachs on a Halloween Saturday, so I ordered 50 Shackburgers, 15 'Shroom Burgers, 20 chicken burgers, five plain hamburgers, ten Shackcago Dogs, and 65 servings of French fries. I had a TaskRabbit deliver it all.

Sunday, October 30
I slept in a bit, and it was a warm day, so I walked over to Barbuto and sat at the bar. I had bucatini, a frittata, and a latte. I live in the West Village, so I eat most of my meals in a small radius.
I had an early dinner with some friends in town from L.A. at Frankies 570 and called it an early night. I had the soup with escarole and cannellini beans, and the meatballs.
Monday, October 31
I started my day at Jack's Stir Brew with a Dirty Harry and an egg-and-cheese sandwich with an extra egg.
Malaparte is a block from my apartment, and it's a low-key neighborhood spot. They have this great off-the-menu pasta that's chitarra, so I ate that for lunch.
For dinner, I went to the Spotted Pig, which still has one of the best burgers in town — and great shoestring fries.
Tuesday, November 1
At 8:30 a.m., there were Murray's bagels in the office for the new lab team. We're opening a new optical lab — a huge facility where we'll be grinding prescriptions into lenses.
On Tuesdays, we always have catered lunch in the office. We also fund employees' Seamless accounts. This day, lunch was from a place called the Mill. I sat down with eight new employees and ate lemon roasted chicken, spinach salad, brown rice, broccoli, and roasted kale.
I grabbed a chicken burrito from Dos Toros on my way home. I grew up in San Diego, and I miss Mexican food all the time. This is the closest thing I've found to an authentic California burrito.