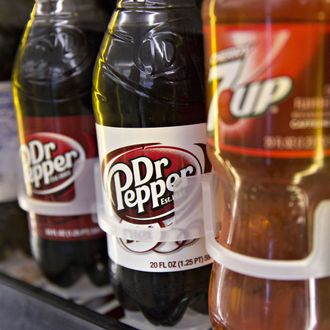 Soda non grata.
Photo: Daniel Acker/Bloomberg via Getty Images
One thing that won't be great again in Donald Trump's America? Soda, as voters made pretty clear yesterday: Sugary-beverage taxes passed by wide margins in three Bay Area cities — San Francisco, Oakland, and Albany — and Boulder, Colorado. That means despite heavy spending by Big Soda, pro-tax advocates batted a thousand this election, passing measures in all four cities that put them on the 2016 ballot. They join Berkeley and Philly, pushing the controversial issue into a place that's now safe to call a national trend.

San Franciscans approved so-called Prop V 62 to 38, while nearby Albany's measure passed 71 percent to 29 percent. Oakland's won 61 to 39. All told, the three new taxes plus Berkeley's from 2014 will expand the penny-per-ounce levy on drinks with added sugar to more than 1.4 million people living in the Bay Area. Boulder's 2H ballot issue, meanwhile, doubles the tax to two cents per ounce, and it captured 54 percent of the vote.

Big Soda's rough week ain't over yet, either. Commissioners in Chicago's Cook County — home to 5 million people — are set to vote as early as tomorrow on a measure that would add a penny-per-ounce tax onto not just regular sodas, but diet drinks that have zero-calorie sweeteners, too. The county-board president says she expects to approve the measure, which would cover three times as many people as Philly's.