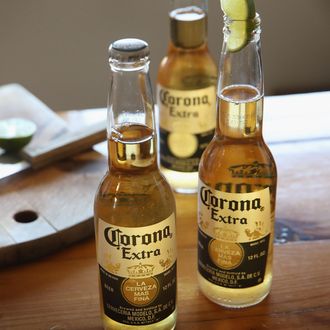 Been nice knowing you.
Photo: Scott Olson/Getty Images
Just as quickly as Wall Street threw money at Corona when the FBI (re-)cleared Clinton of criminal wrongdoing two days before Election Day, investors are now yanking a good chunk of it away, unsure what the heck Donald Trump will mean for beer that's from a country he wants to wall off — and largely marketed to a demographic he threatens to deport. Shares of parent company Constellation Brands fell by 8 percent yesterday — even as the rest of the initial market panic faded into a surprising rally — over worries that a Trump presidency could cripple America's largest distributor of Mexican beer. The drop went twice as far in the opposite direction as Monday's gain, which was the biggest in over a month.
For its part, Constellation claims not to be worried "in the short term," since it's unlikely Trump could wreck U.S.-Mexico trade in, say, his first 100 days, but the company's CEO told shareholders yesterday that "as these policies develop, we will respond accordingly and engage with government accordingly." Besides just importing Corona, Pacífico, and Negro Modelo, Constellation also runs a massive beer-manufacturing operation down in Mexico and is currently in the throes of a nearly $4.5 billion expansion there — another reason executives might be sweating the Trump White House's Mexico diplomacy.
If Trump did gut NAFTA, as he's promised he will, it would be a double whammy for Mexican beer. Tariffs would jack up the price of importing it into America, but the U.S.-produced barley many breweries depend on to brew it would cost them more, too.