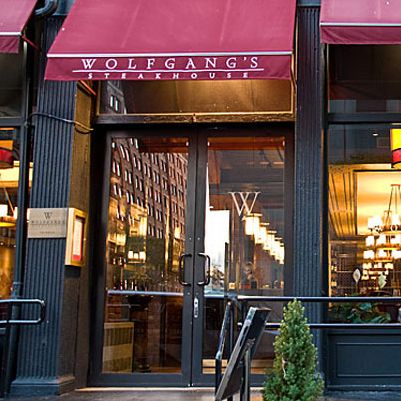 Where the incident occurred.
Photo: Dave Ratzlow
On Friday night, a woman named Lindsay Means says she and two of her friends were walking by Wolfgang's Steakhouse in Tribeca when two customers, echoing comments made by Donald Trump, shouted "grab them by their pussies." According to Means's Twitter account, the two men, who were smoking cigarettes outside the restaurant, repeated the comments several times after she confronted them. More troublingly, she says, employees then came outside and told her and her friends to calm down, that the customers were good guys, and to let them enjoy their meal.
Over the weekend, the restaurant contacted one of Means's friends on Instagram to apologize for "the inconvenience." The friend responded that it wasn't an inconvenience; it was sexual harassment that was "said by your patrons and condoned by your staff." Means and her friends returned to the restaurant over the weekend, where the manager apologized and reportedly said of the customers, "[T]hey were drunk out of their minds, but that's not an excuse." The restaurant tried to offer them a free meal, but the women demanded an apology and were given the CEO's email address.
Last night, Wolfgang's apologized for the incident on its Twitter account, stating that it didn't "condone harassment." This was one of two reported instances of harassment of women by Trump supporters in New York over the weekend: Another woman was reportedly punched in the face after getting into an argument about the election at Brooklyn bistro Bar Tabac.
The restaurant also apologized directly, via its Twitter account, but appears to have addressed that apology to the wrong account: