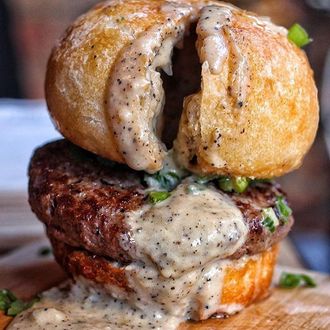 Not so bad when nothing's gushing out.
Photo: Raw Material NYC/Instagram
By all accounts, the new Lower East Side restaurant Raw Material's "burger bomb" tastes delicious — hard to go wrong with a grilled chuck-sirloin patty, melted Vermont cheddar, and diced green onions on a fresh French roll. Unfortunately, it's got a bit of an optics problem, as people online have discovered this week: The one way into it is to explode the top bun, which is filled with cheese goo, like a zit.

This clip gives you the basic idea:

Chef-owner Sandy Dee Hall insists to Insider that the fun is how "it's kind of a surprise because you never really know what it's going to do." But, as people have learned, you sort of do — it will involve copious cheese discharge.

People on Facebook are aghast, calling it "the Dr. Pimple Popper of burgers." In the video BuzzFeed posted, commenters said it looks like a waste of a good shirt, or "like you are popping a huge cyst" — a comment almost 10,000 people have liked. Reviews are equally mixed on Twitter:

Hey, more for the people who seem pretty down with the idea: