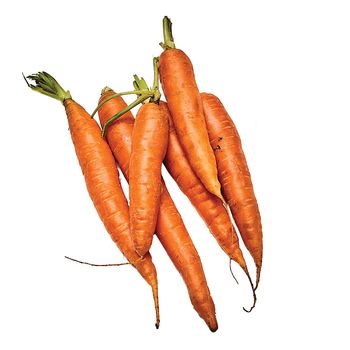 There's a roots arms race going on at the Union Square Greenmarket.
Photo: Bobby Doherty/New York Magazine
Union Square Greenmarket can be a pretty rough place. And we're not just talking about cutthroat chefs vying for produce, or getting hip-checked at the Windfall Farms egg cooler by otherwise civilized customers who adopt a take-no-prisoners policy when it comes to the last carton. There's also, it turns out, a bit of one-upmanship among the farmers themselves.
These good men and women are not immune to a little friendly rivalry in the form of degrees Brix, or sugar level, the criterion by which many fruits and vegetables are measured. Which is why you might have seen Rick Bishop of Mountain Sweet Berry Farm patrolling the market recently and checking out competition's carrots with his trusty Brix-testing refractometer, an imposing little gadget that looks like something an otolaryngologist would use to examine your throat. Bishop and Kellie Quarton, his farm manager, have been on a mission of late to grow the market's sweetest, most carroty carrot — a designation that they believe belongs to the Rumba, an open-pollinated variety they planted in June, lavished with soil-improving Norwegian sea kelp, and debuted at the market last month.
By all measures, it's a winner. In a taste test judged by a discriminating group from Danny Meyer's Untitled and Union Square Cafe restaurants who visited Bishop's Roscoe, New York, farm last spring, it bested 25 other carrots. And at Greenmarket, it's been selling out and scoring high on the sweetness scale (the first harvests were pushing 10 Brix, while other stands' carrots were stuck between 6 and 9).
Bishop was basking in his success the other day until he got a text from a farmer colleague, who, in the course of his own comparative sugar sampling, had uncovered an upstart carrot: the Bolero, a hybrid grown by market newcomer Alewife Farm's Tyler Dennis. The colleague sent Bishop a screenshot of the reading (11.2) just to rub it in, and a subsequent testing registered over 12. Lesser men might have grown discouraged and moved on to rutabagas, but Bishop, who looks like he could lift a Volkswagen over his head, is not lesser men. "Back to the drawing board," he said.
*A version of this article appears in the November 14, 2016, issue of New York Magazine.