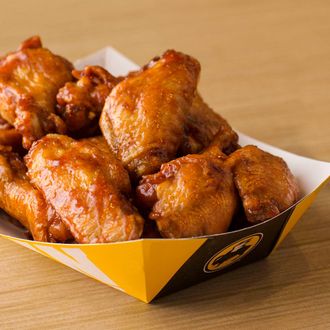 So lonely.
Photo: Buffalo Wild Wings
Perhaps in part because of football's new rap as the one-stop shop for brain injuries, domestic abuse, racial slurs, and politicized national anthems, the NFL's ratings have tanked by as much as 24 percent this season, and that mass exodus could soon have collateral damage on America's other beloved pastime: eating wings at the neighborhood sports bar. NFL games — which air four nights a week — reportedly account for 10 percent or more of fall traffic for places like Buffalo Wild Wings, enough to make executives in this current climate a little skittish.
Marketplace reports that Buffalo Wild Wings' sales are already down 1.6 percent heading into football season. Analysts at investment firm Maxim Group warn "any decline in NFL viewership, if sustained, is likely to have a pronounced negative effect on traffic," and past seasons lie on an even more ominous note: Even the tiniest changes in NFL viewership have historically hurt sports-bar chains. Buffalo Wild Wings says weird season scheduling last year shorted them one week of football that usually falls in the third quarter, and that this change caused sales to fall by almost a full percentage point. (Wingstop had the same problem.)
The good news is another commonly cited reason for the ratings decline is America's train wreck of a 2016 election, so as soon as that crashes and burns in another week, people might welcome a return to the civil sport known as NFL football.

This post has been updated. It originally referred to the Marketplace report that Papa John's sales are down this quarter compared to last, but the pizza chain disputes that claim.