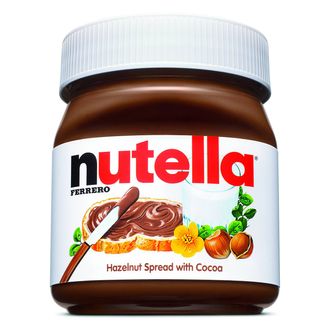 How do I eat thee? Let me count the ways.
Photo: Nutella
Nutella's unstoppable popularity has landed federal regulators on the spread-maker's bad side. Since 2014, parent company Ferrero has been petitioning the FDA to change how it defines the product, arguing the public clearly no longer considers it a dessert-only item in a world where there is hazelnut-smeared pizza and something called Nutella-Palooza. In particular, it's now something that goes on breakfast toast, which is why Ferrero wants the agency to reduce the serving size from two tablespoons down to one, the amount used for jams and jellies.
The FDA was apparently in no hurry to do this, but after two years, it's finally released a document today asking Americans to report their Nutella consumption habits so it can decide whether "'nut cocoa-based spreads' fall within the 'Honey, jams, jellies, fruit butter, molasses' category." The agency will gather information for 60 days, then see if the data back Ferrero's claim. If Nutella were classified as a jelly-esque food product instead of a dessert topping like Hershey's, it would get labels that make it look half as unhealthy — the 100 calories and ten grams of sugar in a single tablespoon, versus double that currently — which would be a big win for Ferrero, if not for consumers' waistlines.

Ferrero argues the FDA's current classification is so old, the last time it got an update was from a 1991 survey of "primarily female grocery shoppers" who reported they mostly glopped their Nutella onto ice cream, hence its "dessert topping" label. The company believes the spread now enjoys a considerably more diverse demographic, about 60 percent of whom prefer it slathered on bread.