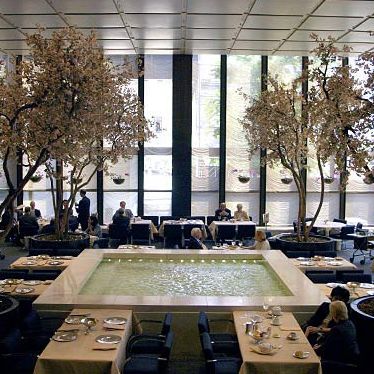 Well, it is landmarked.
Photo: Noah Kalina
When it was announced that Major Food Group — the team responsible for Carbone and Santina, among others — would take over the storied, historic Four Seasons space, many questions were asked. What would happen to the furniture? Where would all the power lunchers go? And most importantly, would Rich Torrisi, Mario Carbone, and Jeff Zalaznick be up to the task of renaming the restaurant? The time to judge has come, as it's been revealed by the Post that Team Torrisi will rename the space — drumroll — the Landmark.
Given the storied dining room's status, the name is fitting. And in keeping with the very straightforward theme, the two rooms inside will be called the Grill and the Pool while the Seagram's other restaurant, currently going through a redesign, will likely remain the Brasserie. Most important, though, is that it has been confirmed that restaurant's iconic pool — which got a lot of use during the Four Seasons' final days — will remain, which means the dream of one day swimming in it, like the power lunchers of old, remains alive.