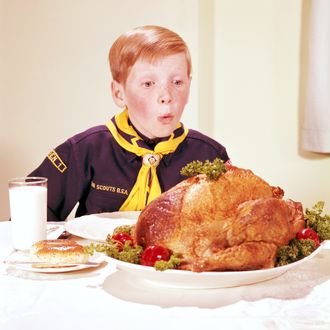 He can't believe the deals on turkey and that glass of milk.
Photo: H. Armstrong Roberts/Retrofile/Getty Images
If 2016 has given Americans anything worth being thankful for this year — and we realize lots of people think that's a stretch — it's cheap groceries, which should at least make Thanksgiving a more budget-friendly meal than in recent years. Bloomberg reports that, this year, the wholesale price of frozen birds has dropped by 11 percent, thanks to lower feed costs.
The price of milk is also lower. Same goes for canned pumpkin-pie mix, and other festive staples, plus grocery stores are also offering further deals to lure in shoppers (some are discounting turkeys to prices below wholesale). So while the prospect of a long weekend with your whole family may seem daunting, at least everyone will have a little more money left over for wine. Or whiskey. Or anything else you'll need to make it through until Monday.