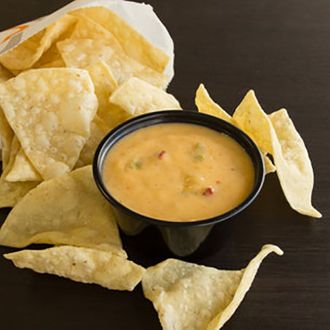 Looks like queso, all right.
Photo: Taco Bell
After 54 years in the Tex-Mex game, Taco Bell is making an actual queso dip. Available nationwide starting yesterday, the cheese sauce comes either solo with chips or as part of two new limited-time menu items (the Steakhouse Burrito and the Steakhouse Queso Nachos).
If it hasn't already, the chain will quickly learn queso enthusiasts aren't a demographic to trifle with (New York's recent fancy-queso boomlet, which left critics duly unimpressed, was proof of that), but executives, two of whom hail from the queso-obsessed states of New Mexico and Texas, may be right that America's easiest-to-make warm snack food is safely in the wheelhouse of the brand behind Dorito-fied tacos and "seasoned beef."

Either way, the company still promises its dip is more complicated than melted Velveeta plus a can of Ro-Tel. "We took our time perfecting the recipe, going through 20+ versions until we reached the perfect flavor and level of spice," it says in a statement. Supposedly, that was a six-month-long process. The final version uses "processed cheese," as is practically required by law, and adds tomatillos, jalapeños, garlic, onions, cayenne, and fire-roasted green chilies from New Mexico's Hatch Valley (although, Nation's Restaurant News notes, they are not Hatch chiles, "which must come from the city of Hatch"). It looks sufficiently queso-y, and hopefully will send the closest menu item Taco Bell has offered up till now — "chips and nacho cheese sauce" — back to the ballpark concession stand where it belongs.