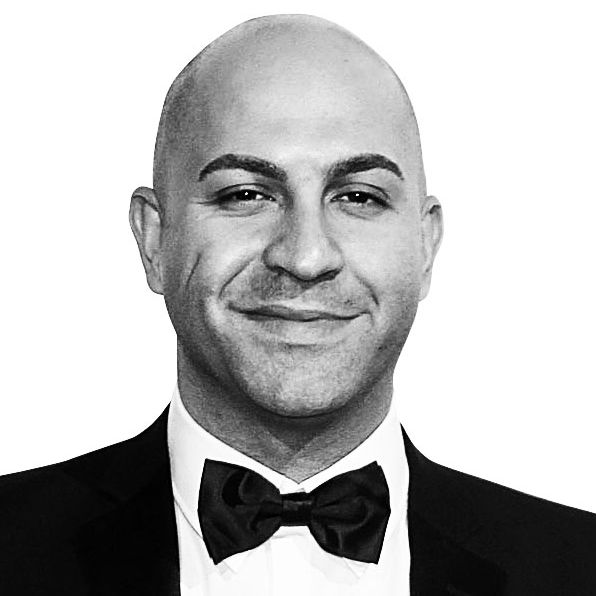 Sushi Nakazawa's Alessandro Borgognone and Daisuke Nakazawa.
Photo: Nomi Ellenson/Getty Images
Some of the best sushi in the city is swimming downstream to Washington, D.C. Alessandro Borgognone's daring, highly regarded sushi paradise, Sushi Nakazawa, is expanding to open Nakazawa in the new Trump International Hotel. The move raised some eyebrows, naturally, because of the drama that's surrounded the restaurants at the president-elect's newest business venture. But Borgognone is a guy whose cell phone has a ringtone of classic music, and who answers yes by saying "correct" through his Bronx accent — he's full of surprises. Grub caught up with him to talk about his quest to make Trump hotels great again.
You got on most people's radar when, after watching Jiro Dreams of Sushi on Netflix, you Facebook-messaged Daisuke Nakazawa and made him the offer of a lifetime — the offer of both your lifetimes. Then you reopened Chumley's, which was frankly an uphill task. Now this expansion into D.C. into a hotel run by the president-elect. Damn, you're brash.
I do like adventure. We knew we wanted to expand Sushi Nakazawa but we didn't know where. We looked at a few places in L.A., a lot of places in Chicago, one in San Francisco, even Miami, which, look, I love Miami — sun, sand, everything — but it seems like a terrible place for restaurants.
They close so often! So many celebrity-chef bombs! It's very "Hello, I must be going" down there, although I like some spots. Anyway, you ended up with D.C. What do you think of it? You must've done some extensive reconnaissance.
Let me preface my thoughts by saying I'm the kind of guy where the first thing I look for is the mistakes. I go into a place and I think, Okay, that's off, the railing is bad, the lighting is bad, this should be different, that should be different.
You're Catholic, right?
Yes.
Me too. Well, lapsed. But you never shake it. You know, the "Protestant work ethic" gets all the acclaim, but the Catholic work ethic is a dark horse: feel bad until you feel good, then feel bad for feeling good. Repeat. It's oddly motivating.
[Laughs] That's always my main approach. I'm very detail-oriented. With D.C., I had reached a point where I saw so much bad that I was actually looking for the good. I couldn't find it.
What's your competition in D.C.?
We don't have any. I don't know if I'm using the right words. I don't sound humble. But I am. It's just, you know, can you name an amazing sushi restaurant in D.C.?
I used to live in D.C. as a congressional reporter, and their problem is they love fusion spots too much, even though they're mostly just culturally muddled. There's great Ethiopian food, there's Mama Ayesha's and Las Canteras, but mostly it's confusion, heavy on the fusion. So they retreat. A lot of Caesar salads in D.C. The Palm is the Jean-Georges of D.C., which is sad.
It's a meat-and-potatoes town. It's a steakhouse town. But sushi is like that, actually. Fish and rice. Meat and potatoes. It's very steakhouse, very Italian even. It's minimalist. It's about preparation. Look, you've eaten at Sushi Nakazawa and you've had average sushi. Was it easy for you to go back?
I think of it as an Olive Garden problem. You grow up in suburban Ohio or wherever and you love Olive Garden. Then you go to Tuscany and realize it for the caricature that it is. It doesn't become bad, exactly, but it's certainly diminished. Like realizing your first love wasn't a great kisser.
I agree, but also take issue, because you don't have to go to Tokyo to get great sushi anymore. You can go to the West Village. That was a major realization for a lot of New Yorkers when we opened three years ago. We want the opportunity to do something really fantastic, really visionary, and give that same moment of realization to the people of D.C.
No offense, but Sushi Nakazawa was very clearly not put together by a Japanese owner. You made a big deal about art on the walls. The sushi bar was made of marble. You served sake in glass stemware. And you had sake pairings — which weren't just innovative, but in hindsight were quite prescient. I was just reading about how sushi restaurants are now paying much more attention to their wine lists.
As they should. We were ahead of that, I'm proud to say. Sushi is a traditional art form and I respect that. But traditional doesn't have to be old-fashioned.
How is Daisuke splitting his time? And what does he think of D.C.?
Sushi Nakazawa [in New York] is our flagship and he's going to be there the majority of the time. [Borgognone told the Washington Post the chef would spend a "good majority" of time in D.C.] But Daisuke? He loves Georgetown. We were just smoking cigars recently over there in Georgetown.
And what do you think of the actual hotel you'll be in?
It's just the sexiest thing in the city. With all of the marble — you know I like marble — it's one of the truly stunning spaces there. And how many restaurants are on Pennsylvania Avenue?
Speaking of Pennsylvania Avenue, the first thing people mention about the hotel is it's run by the president-elect. Is that weird for you?
It's business. We've been in negotiations for a year and a half. Whatever's going on with the White House or whatever's going on with Donald Trump is not my focus. That's four years. Maybe eight years. I'm looking at 20, 30, 40 years.
There was all this drama with José Andrés pulling out of the restaurant space after Donald Trump denigrated Mexican immigrants. David Burke coming in. One planned restaurant space was converted into a conference room. It's raucous. But at the same time, I don't think people are boycotting Jean-Georges for being in a Trump hotel.
We're new. And a play on new on top of that. New is always going to be adventurous and unexpected. And it's going to be a new experience. It's not a tree-lined street in the West Village anymore.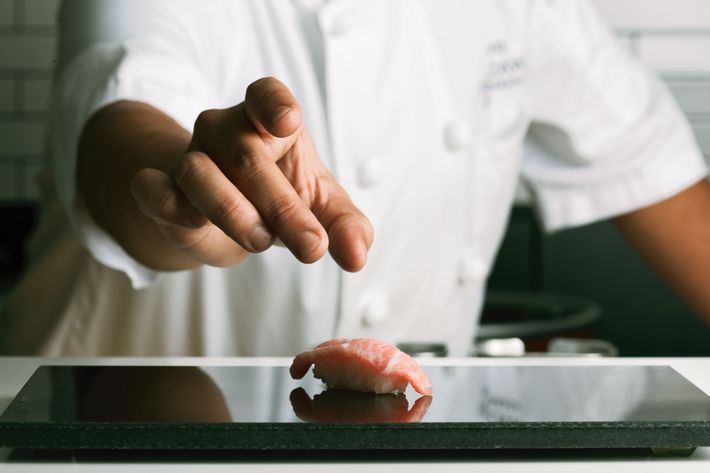 I would guess it's easier — for the restaurateurs and the hoteliers — when they're both new together. It's not like you're expanding into D.C.'s Four Seasons and burdened with revitalizing it or jeopardizing its legacy or anything like that.
It's true. This space is ours. It's just totally ours. I'm sure you've had that moment with an apartment or a car or even clothes. It's yours. Nobody's ever tried it before.
And it'll have its own entrance. Was that something you wanted? Something they offered that sweetened it? How did that work?
It's something I wanted. I negotiated it.
The art of the deal! I love it! What's it been like? Do you deal with the actual Trumps?
Certain things, Ivanka handles. Certain things, Don Jr. It's great. They're very direct, very hands-on. About air conditioning, electrical, whatever. They know exactly what they want. I respect that.
And the space. I mean, Sushi Nakazawa is great. But it's tucked into a tight spot on Commerce Street. Now you have space. I think of it as when you move from a studio to a bigger apartment and you think 'I can finally have dinner parties!' or 'I can finally have a guest bedroom!' or whatever. Is there a restaurateur version of that?
I can finally have a private dining room. My favorite part of this is always demolition. But also design. Here, I just love that there's enough space for me to go waltzing around in.
I think you wouldn't have rolled the dice on Sushi Nakazawa if you hadn't had the long expertise built up at Patricia's. And maybe you wouldn't have taken on Chumley's if you weren't emboldened by Sushi Nakazawa's success. Did all of this together give you the guts to expand into a new city?
No. Like I said, a year and a half with negotiations. Before we were even sure we were going to try Chumley's. And people forget — look, I opened four restaurants in the outer boroughs between Sushi Nakazawa and Chumley's and I've renovated Sushi Nakazawa three or four times in just three years. Added bathrooms. Changed the sushi bar. Painted walls, fabric walls, an extension, new chairs, a million things.
D.C. folks are notoriously transient. It's a place where things get hot quickly and get cold quickly. It's alpha people, checklist people, gossipy elbow-rubbers. Is this for you or for them? Or let me ask it this way: Are they going to love you?
I can't expect them to fall in love with it. I have to work for that love. I'm not opening up 100 restaurants like some people do. I'm opening classics. I'm in this for the long haul, the bigger picture. I was with an older gentleman the other night and he said 'I'm not in the get-rich business. I'm in the stay-rich business.' I liked that. You work on what you have. And going for more doesn't mean what you have is less without it.
And that rich old man was Donald Trump!
[Laughs] No. This guy is much richer, lemme tell you.
I know you. You talk this tough game — numbers, business, tell it like it is, whatever — but right now you're at home on Staten Island making beef stew and gnocchi for your kids for when they come home from school. You're going to be away more now. Physically, mentally, emotionally, part of you is going to be in D.C. Do you worry about that with your family?
Family is a truly important factor in my life and my success. I eat family meals with my guys at Nakazawa or Chumley's every day. Whatever they're going through, I'm going through. If I'm drinking Pellegrino, everyone's drinking Pellegrino. This is not at all a comment on any kind of dissatisfaction or boredom with all that I already have now. But when you have all of this, growth makes sense.
It's true when your work is your passion but really about any love in your life: It keeps surprising you, how much deeper it can go, how much bigger it can get, how much stronger it can be.
God, you know that's really it. I'm not out here just taking a shot at it. It's not about risk. It's about confidence. And greatness. I'm going to get to serve — we call it 'service' but it really is a duty — and I'm going to get to serve in our nation's capital. That's pretty great.
You're making "great" great again! But you're telling me Manhattan isn't our nation's capital?
[Laughs]