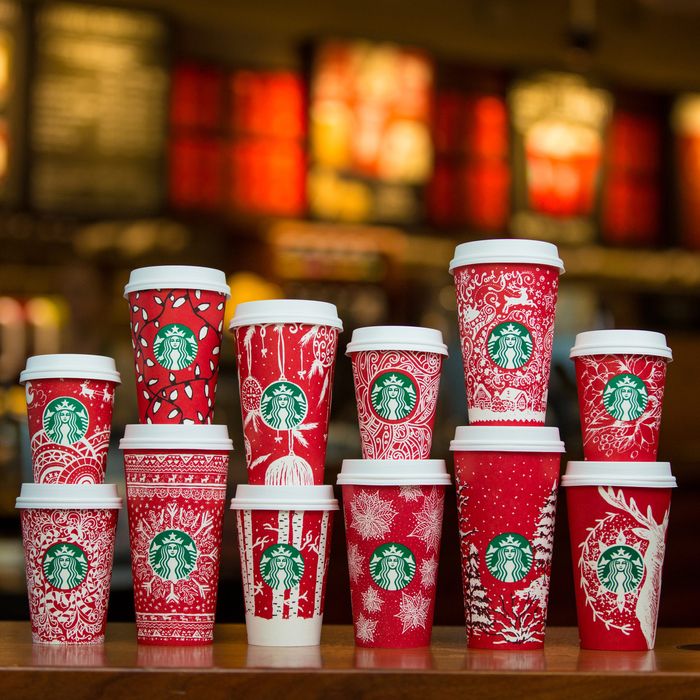 Extra Christmassy.
Photo: Starbucks
Starbucks has finally revealed its 2016 holiday cups, and they're going to please the pro-Christmas crowd. Last year's "ombré" design sent some Evangelicals into a fury, because moving from cups with ornaments to cups that are all red proved people at Starbucks "hate Jesus."
With "everything that's going on in our country," this time the chain says it opted to make 13 excessively festive cups. The cups are red as always, and festooned all over the sides are Christmas trees, Christmas lights, Santa, poinsettias, ornaments, candy canes, snowflakes, love and joy, bad Christmas sweaters, reindeer, plain deer, wreaths, and sleigh rides — although this list isn't even exhaustive.

To fully appreciate the designs, a little compare-and-contrast with the cup from last year might be helpful:

Schultz hopes the cups manage to avoid repeating last year's drama. But the funniest part is it's sorta, kinda a trick: In 2015, the company advertised those boring red cups as "blank canvases" that customers were free to personalize however they wanted. Lost on most critics was the fact that if they'd just produced a writing implement, scenes straight out of the Crusades could've festooned their Venti gingerbread lattes. All 13 of the new cups, hilariously, are ones DIY doodlers did exactly that with last year, then shared on Instagram. Starbucks apparently more or less treated those posts as entries for the 2016 designs, and just rounded up the top 13.
Also, coincidentally, all 13 of them are by women, 6 of whom aren't even American: