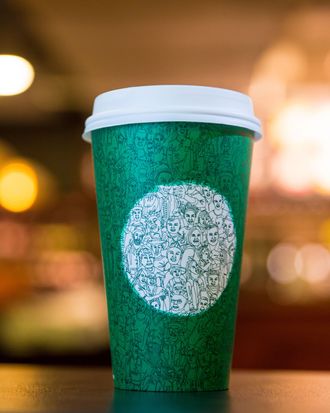 All you need is a coffee cup.
Photo: Joshua Trujillo/Starbucks
Starbucks realizes how fractured the American public is right now, and the massive coffee chain knows there's only one thing that can fix this situation: a green coffee cup with a bunch of drawings of people all connected by a single line. The company is rolling out the cup today, to coincide with the reemergence of its holiday drinks, and calling the powerful new gesture a "symbol of unity." CEO Howard Schultz even believes that when Americans drink their caramel praline lattes, the cup will serve as a "reminder of our shared values." Amazingly, this is not the first national crisis that the chain has elected to tackle itself, as it also decided to end racism by writing stuff on cups.