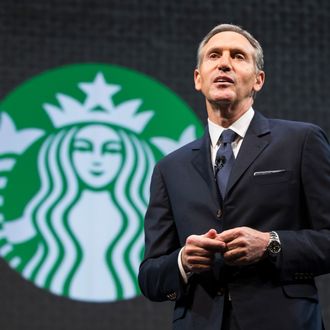 Happily expanding baristas' job descriptions yet again.
Photo: Stephen Brashear/Getty Images
Apparently, Starbucks's green "unity" cups haven't made Clinton and Trump supporters love each other yet, because Howard Schultz is now putting that onus on baristas. In a letter to employees that starts by informing everyone it's "rainy," he's "turned the clocks back an hour," and he's enjoying a French press of aged Sumatra, the chain's CEO (and open Hillary supporter) writes that he's "a bit anxious" about this divided election, so it's time workers live up to their potential as the "true promise of America."

As he sees it, the coffee company has a new societal ill to fix:

Many Americans have allowed the vitriolic nature of the presidential campaign to ignite our differences and strip away our civility and dignity. In the process, we've lost faith in what we all know has always been true, the promise of America.

But you are the true promise of America.
…
Kindness, compassion, empathy, and yes love is what we need. It is what we must display and share. We are all longing for a deeper sense of human connection and humanity because, when we are touched by it, it fills us up.
Schultz believes that, deep down, Americans genuinely are "all connected." That's why the chain's new green cups feature "so many faces with a single, unbroken line." It's also why he thinks it's only fitting that baristas — whom he's also variously tasked with solving racism and consoling despondent stockbrokers — rise above "the hatred on cable news, the ugliness of our politics, and the lack of political role models for our kids" so that customers "may see and feel the possibilities that come with being an American."
Whenever he does actually run for president, Schultz will hopefully hone his slogan. "The Possibilities That Come With Being an American" isn't going to cut it.