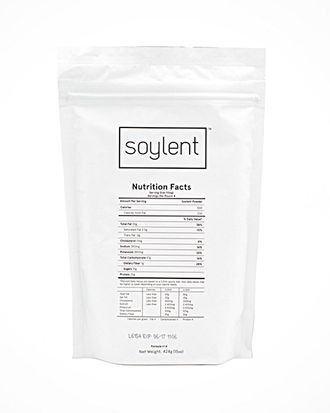 Grub would still prefer a salad.
Photo: Soylent
Soylent's powder is filled with ingredients like creatine and sulfur, but the food-replacement disruptor says only one of them is the culprit making its customers aggressively ill: an algae-based flour the company touted as another "step toward sustainable food production" in the latest reformulation that debuted this summer.

Customers who used the so-called Powder 1.6 or ate the company's brand-new Food Bars started coming down with a host of GI maladies in October. After getting tests back on the recalled products, the L.A. start-up now says the issue appears to be an "algal flour" provided by biotech company TerraVia that's been removed from future mixtures. "We are releasing new formulations of our powder mix and meal replacement bars early next year," founder Rob Rhinehart tells Bloomberg. "Our new formulations will no longer contain algal flour."
As you might guess, a TerraVia executive disputes the idea that his company's product is to blame. He argues TerraVia's algae has been used in "more than 20 million" products without incident — everything from food to Unilever-brand soap — and also points out that Soylent's powder contains "several known irritants" like soy protein and glycerin that can cause the problems customers have complained about. But Bloomberg reports that Honey Stinger energy bars that contained TerraVia's algal protein were also recalled earlier this year after they made people ill.

Rhinehart was initially a big booster of switching to algae, which he saw as a cheap, sustainable alternative to soy, a protein many people are allergic to. He claims he never would have thought "any kind of ingredient derived from algae could make people sick," but this is also a guy who has described real food as "rotting ingredients I would need to spend an unconscionable amount of time sourcing, preparing, and cleaning," so maybe keep that in mind.