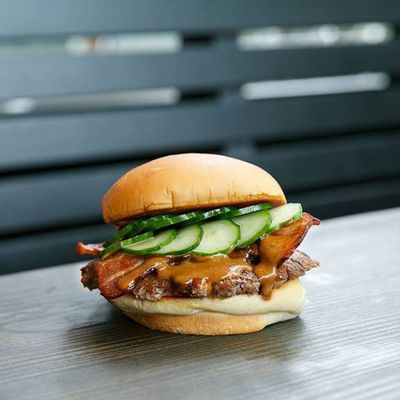 Red miso, cucumbers, and bacon.
Photo: Shake Shack
Shake Shack loves nothing more than a good chef collaboration. With the chain about to celebrate its first anniversary in Japan, it will commemorate the event the only way it knows how: by debuting a limited-time-only burger created by an acclaimed chef.
Danny Meyer's burger chain has teamed up with Zaiyu Hasegawa, of the two-Michelin-starred Jimbocho Den, to offer the Den Shack, a.k.a. "the Michelin-starred burger." It sounds pretty good and not overly fussy: bacon, plenty of marinated cucumbers, and red miso, on your classic Shack patty. It's available for one day only, on November 3, and it'll set you back about $9. If you're in Tokyo and feeling homesick, you know what to do.