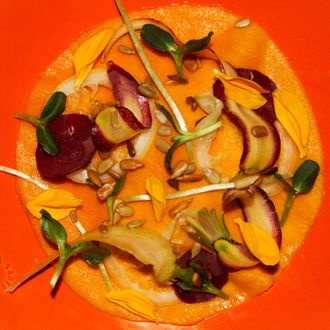 Carrot crêpe with littleneck clams and sunflower.
Photo: Jemma Hinkly/New York Magazine
Many, if not all, of the familiar, carefully imagined, slightly maddening tropes of the High Brooklyn (or, if you prefer, High Portland, or High Silver Lake) dining experience are on display at Olmsted, the much-acclaimed restaurant that opened several months ago in Prospect Heights, on a busy section of Vanderbilt Avenue. This is especially true if you happen to find yourself, as I did on an early visit, sitting in the carefully pruned townhouse garden in the cool of a summer evening. The air was perfumed, as in a temple garden in Kyoto or Bali, with the faint, incenselike smell of wood smoke. There is an actual chicken coop in one corner, filled with quail, and a burbling fountain fashioned from an old bathtub. Guests perch on wooden benches appointed with silk-­covered throw pillows, sipping drinks with bucolic names like Sassafras, Tarragon, and Lavender. "Order the tall pink one," someone suggests. "It'll get a lot of likes on Instagram."
The tall pink one was Rhubarb, for the record, a tequila-spiked libation topped on its surface with a slowly dissolving substance called salt-rhubarb foam. It did decently on Instagram, as expected, although with the turn of the seasons, I imagine the after-dinner s'mores being served in the garden (with mismatched mugs of hot chocolate) might be doing even better. This web of theatrical, constantly regenerating story lines is another trope of a post-gourmet world where budgets are tight and attention spans are short, and Olmsted's proprietors, Greg Baxtrom (the "chef-owner") and Ian Rothman (the "farmer-partner"), are masters at it. They built the garden themselves, as the restaurant's band of devoted regulars (and also the restaurant's website) will tell you, along with the polished storefront dining space, which includes a decorative "living wall" made up of potted ferns and ivy.
But what separates this stylized post-gourmet establishment from the rabble of other homegrown, seasonally attuned joints crowding the dining landscape these days is the level of skill, detail, and imagination that Olmsted's proprietors and staff bring to their carefully stage-managed production. This is apparent even out in the garden, when in between the sipping of cocktails (and the gentle clucking of quail) guests can graze on pre-dinner "snacks," like fluke sashimi folded around snap peas (in summer), and crinkly fried Vietnamese-style boil crackers flavored with crawfish instead of the usual shrimp and served in folded origami bowls made from old newspaper. The excellent tempura romano-bean frites are served in a twirl of paper also, and if you order the cauliflower pakora, you'll find that the florets are sizzled in Indian spices and stuck with tiny bamboo toothpicks.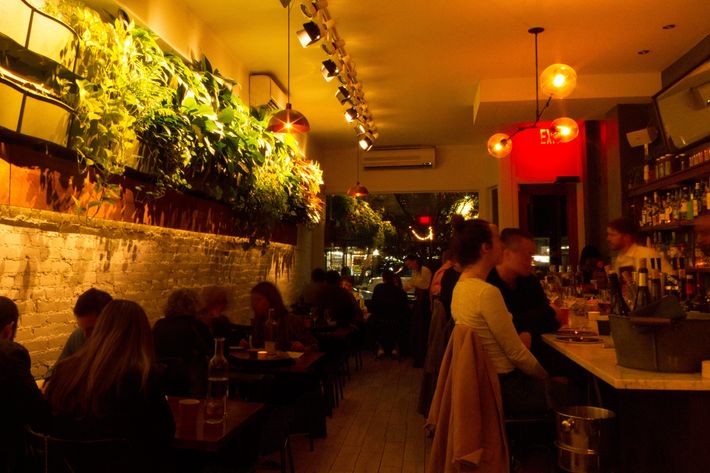 Olmsted's owners met at the discreet, Scandi-centric tasting room Atera in Tribeca (where Baxtrom cooked and Rothman tended the impressive, ivy-covered garden wall), and their idea, clearly, is to bring this kind of refined destination cooking down to a more accessible, neighborly scale. The aforementioned cocktails are $12 each, and the most expensive dish on the menu will cost you $24. My perfectly textured bowl of the steamed Japanese egg custard called chawanmushi cost a good deal less than that (it's dappled with trout roe and maitake mushrooms), and so did the fried packets of crab Rangoon, stuffed with crab and shreds of kale. There was also a bright-orange crêpe, flavored with carrots, in this early salvo of dishes, and Baxtrom's famous tomato schnitzel, which is a kind of frittata hybrid, crisped in the pan and then finished with shallot butter and a little pot of bagna cauda.
This ingenious dish will probably soon vanish from Olmsted's entrée menu (if it hasn't already), along with fresh late-­summer tomatoes, but Greenmarket fanatics can console themselves with a whole new batch of carefully considered seasonal creations. These include little pyramids of fresh-caught scallops fried in tempura batter with slices of pickled ginger, and cucumber served with stacks of fresh-baked whole-grain chapatis with a small bowl of creamy, cardamom-flavored labneh on the side for dipping. On my last visit, $23 purchased tender bites of gourmet pork collar, garnished with mustard and a puddle of melted raclette, followed by (for a dollar more) a round portion of duck breast, which was deboned, circled with ribbons of crispy skin, and piled with a drift of black truffles, shaved tableside by a diligent truffle shaver wearing a samurai topknot.
This kind of pageantry can sometimes tip into the realm of preciousness (did we mention that you can nestle under plaid blankets with your after-dinner s'mores with mismatched cocoa mugs?), but at these prices, who's complaining? In a dining world increasingly split between a rabble of fast-casual projects and elite (and, thanks to the ubiquitous best-restaurant lists, increasingly cookie-cutter) plutocrat dining desti­nations, Baxtrom and his partners provide a blueprint for ambitious young rest­aurateurs attempting to navigate the sophisticated middle road. Before dessert, I suggest a taste of cheese fondue, made with a wheel of Harbison. After that, there are crumbly apple doughnuts to enjoy, a rich, cocoa-forward chocolate mousse, and gently dissolving little clouds of frozen yogurt poured with lavender honey, which are served in dainty stemmed glasses, just like at the great gastronaut palaces across the river.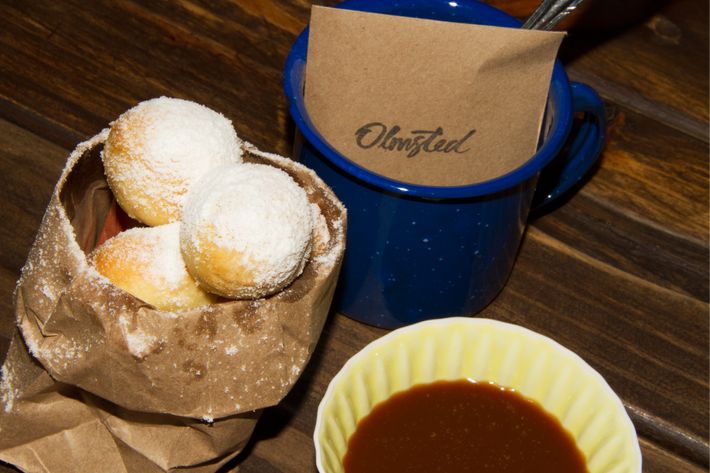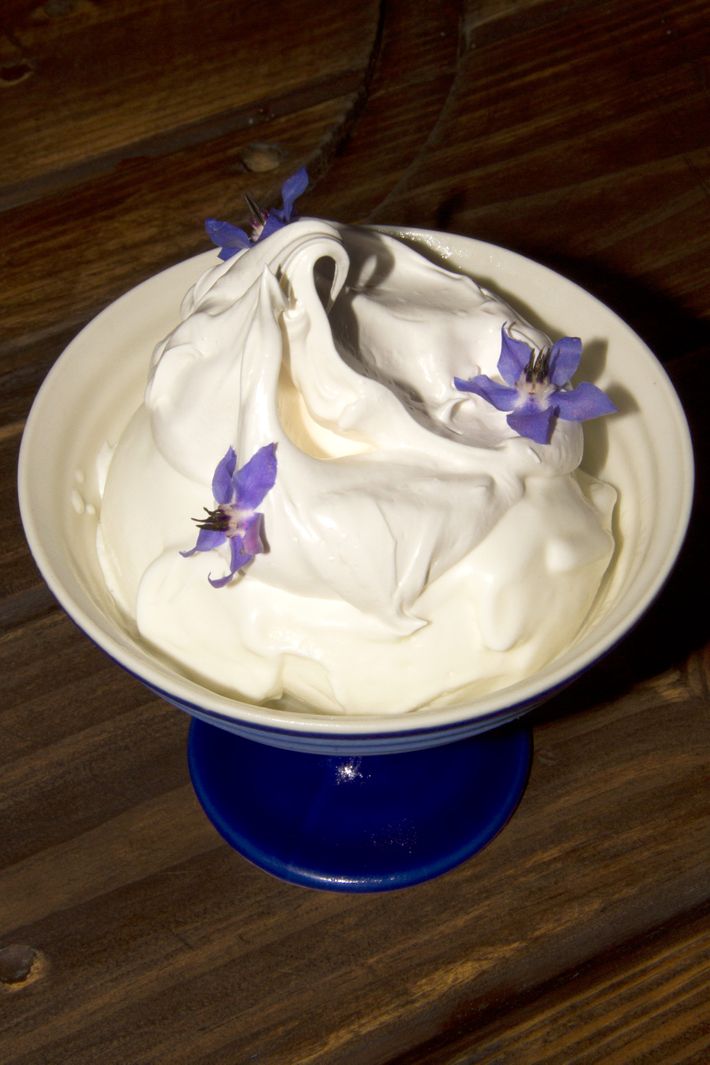 Olmsted
659 Vanderbilt Ave., nr. Park Pl., Prospect Heights; 718-552-2610; olmstednyc.com
Open: Nightly for dinner.
Prices: Appetizers, $7 to $15; entrées, $13 to $24.
Ideal Meal: Crawfish boil crackers and cauliflower pakora, carrot crêpe, tomato schnitzel and/or duck breast, frozen yogurt with lavender honey.
Note: Attention, Prospect Heights tea loons! There are 11 varieties available here, including the famous Puerh Nan Hua from Yunnan, matcha, and two kinds of cold-brewed oolong.
Scratchpad: One star for imagination, one star for execution and technique, and one for the prices.
*This article appears in the November 14, 2016, issue of New York Magazine.